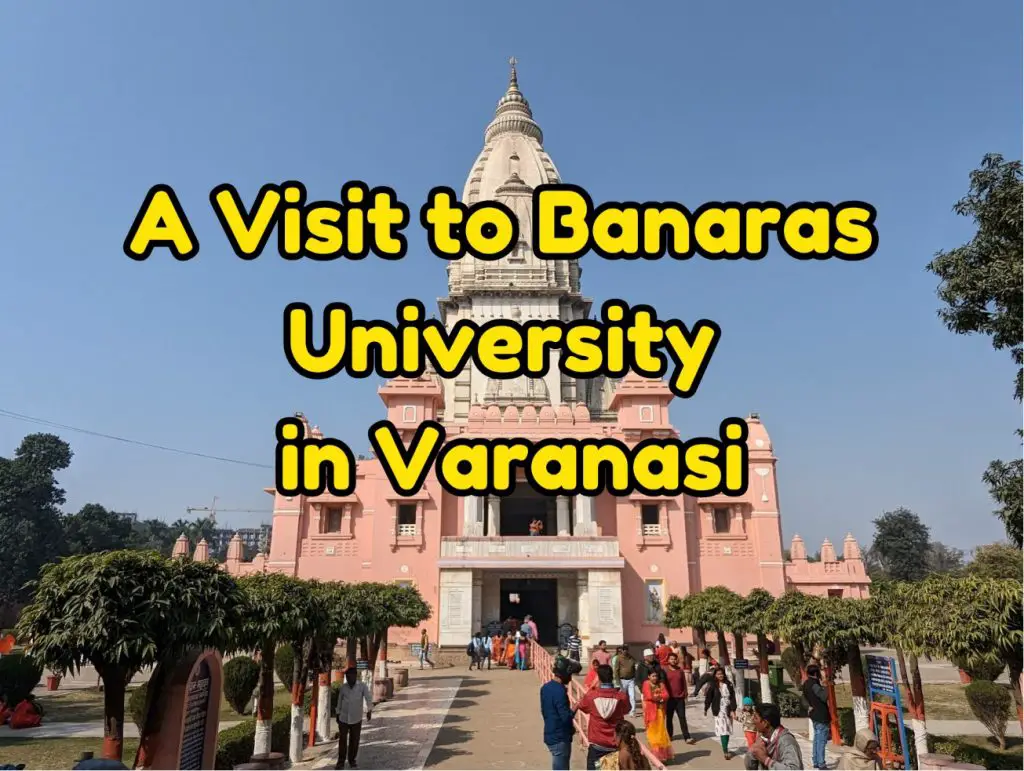 The large park that is Banaras Hindu University in Varanasi India, contains many different things to see as a tourist and it all stems from a Hindu legend. Contained within the Banaras Hindu University is the most prominent Hindu temple in Varanasi. Hindus across India and abroad visit this particular Lord Shiva temple to pray for the well-being of their families and eternal peace. As tourists, we bare witness to some of these prayers and get to explore the grounds of this religious university.
How much time do you need to visit Banaras Hindu University? For the full visit, you'll need about an hour
Where is Banaras Hindu University? Quick Map – Link
Who should visit to Banaras Hindu Univerisity?
People who have been in Varanasi and want a break from the Ganges River, People who appreciate religious & family tradition, People who want more culture.
Who should skip Banaras Hindu University?
People who don't like to learn about culture, People who dislike interesting architecture, People with limited time to see the Ganges River.
What should you bring? – I recommend bringing a bag for your shoes for when you take them off, unless you aren't concerned about the potential for them to be stolen and water.
Is it worth it to go to Banaras Hindu University?
If you make your way to Varanasi the key thing to see is the Ganges River. If you have additional time, then definitely make your way to Banaras Hindu University. The feel of the University Park is quite different than being on the Ganges River, there are more structures to explore and more of the culture to experience.
What is it like to visit Banaras Hindu University?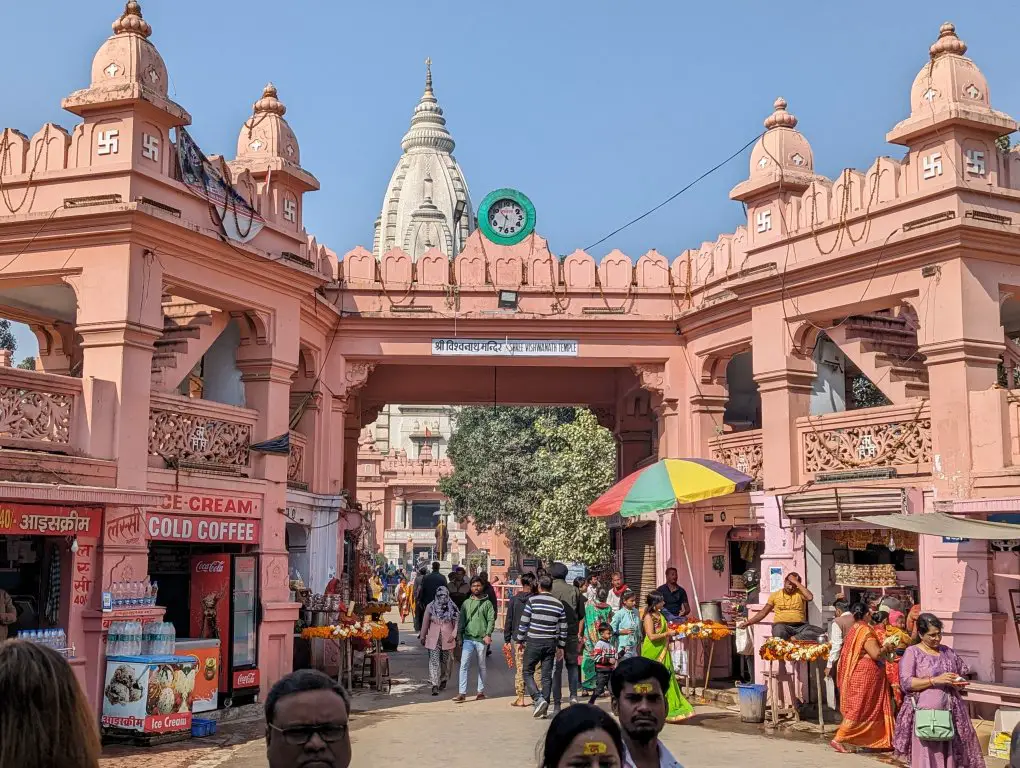 Entering Banaras Hindu University Park
Expect it to be warm, the weather in Varanasi is often both hot and humid! Despite that, when you first enter the Banaras Univesity Park, you will enter through a wide pink entranceway with a just a peak beyond the gates to the fabulous Shri Kashi Viswanath temple.
Along the sides of the entrance are stores where religious goods are sold as well as food and drink.
Vendors at Banaras Hindu University
One such vendor is pictured here. At first glance this person is merely selling flowers. However in the Hindu religion flowers are offering to the gods in hope that they will grant grant good health, wealth and prosperity to the person who puts it on the alter.
Other vendors sold Hanai tattoos, fake jewels that you can stick on your body, bells and more.
I also noticed something quite interesting. There was a man making a gigantic soup! I learned that this is something that they do for the poor in Varanasi, they provide free meals to anyone who asks for it. Wow!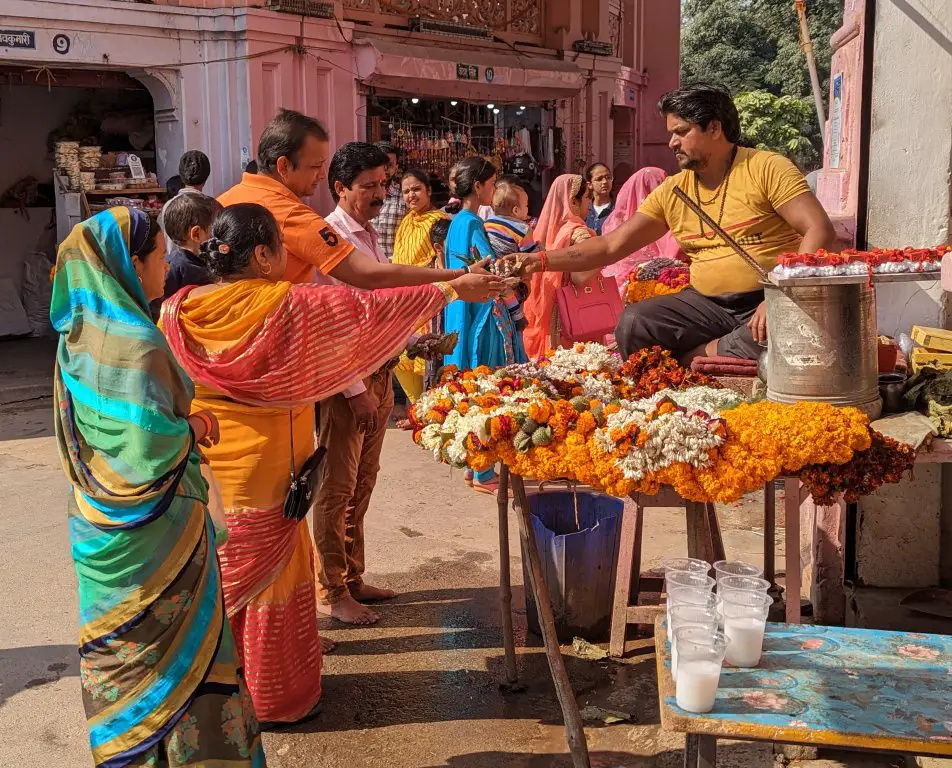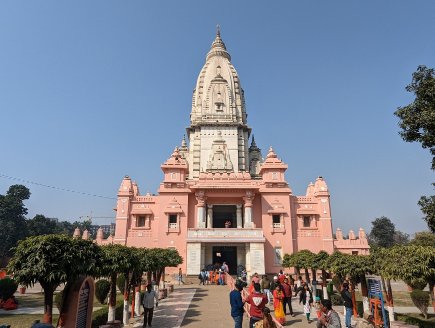 Shri Kashi Viswanath Temple
After entering the University, in front of you after a moderately long pink path is Shri Kashi Viswanath Temple.
The architecture of the temple from a distance, along with the colors of the building help it to stand out from anything nearby,
Before entering, we had to take off our shoes and walk barefoot into the temple.
Why is Shri Kashi Viswanath Temple Important?
This temple is dedicated to Lord Shiva. It is believed that Lord Shiva created the original Temple, but over the years the Temple has been destroyed and rebuilt multiple times due to invasions and religious conflicts. People who come to the Ganges River to die, also visit this temple which can liberate devotees from the cycle of birth and death.
As a tourist, inside of the temple there were just a few small rooms that offered shrines – Shiva and others, to pray to and leave offerings for. In fact, devotees come from all over the world to this temple seeking the blessings of Lord Shiva and to participate in religious ceremonies performed at the temple.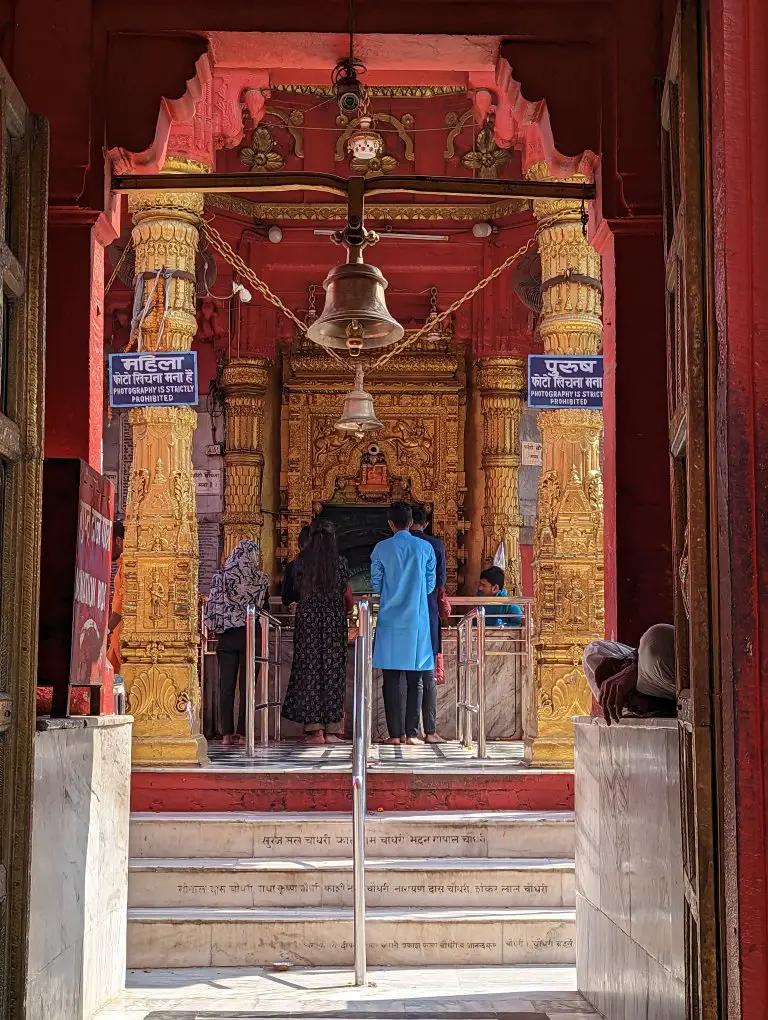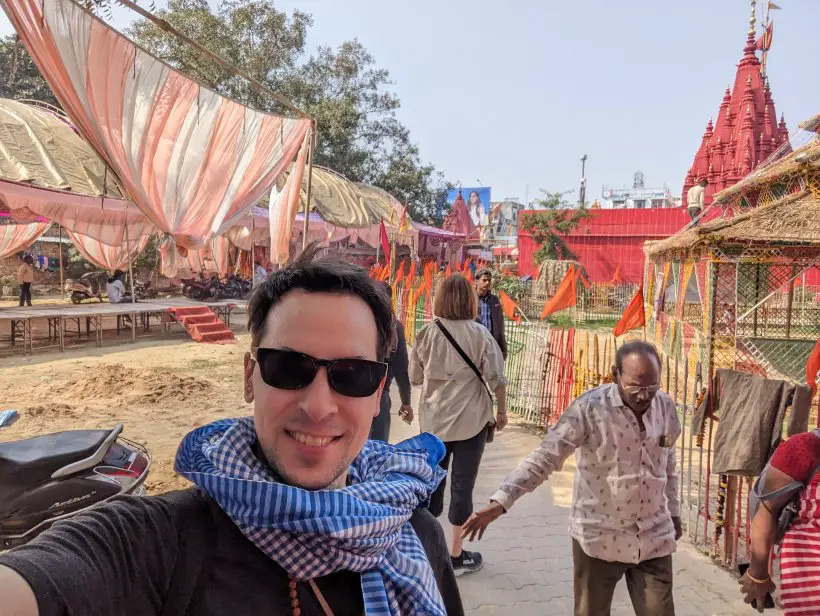 Other than the Temple
Outside of the Temple there are other structures as well, each dedicated to a different diety, with a few dedicated to simply feeding the poor. Each provides a small area for worshipers to gather and to present offerings to shrines.
There were other buildings, but most were not open for us to peek into. However, just walking the pilgramage or peole celebrate their religion by turning bells and giving offerings throughout the park was pretty amazing.
Was visiting Banaras Hindu University Park worth it?
For me, yes. I really enjoyed seeing the architecutre of the buildings and walking the holy path that many Hindus before me have walked. I liked seeing and understanding the deities that were represented there and I enjoyed learning about the legend of Lord Shiva creating not only this exact location, but all of Varanasi and I liked the people. This was one of the few places in India where the people were not trying so hard to sell me something.
Banaras Hindu University Park Pictures