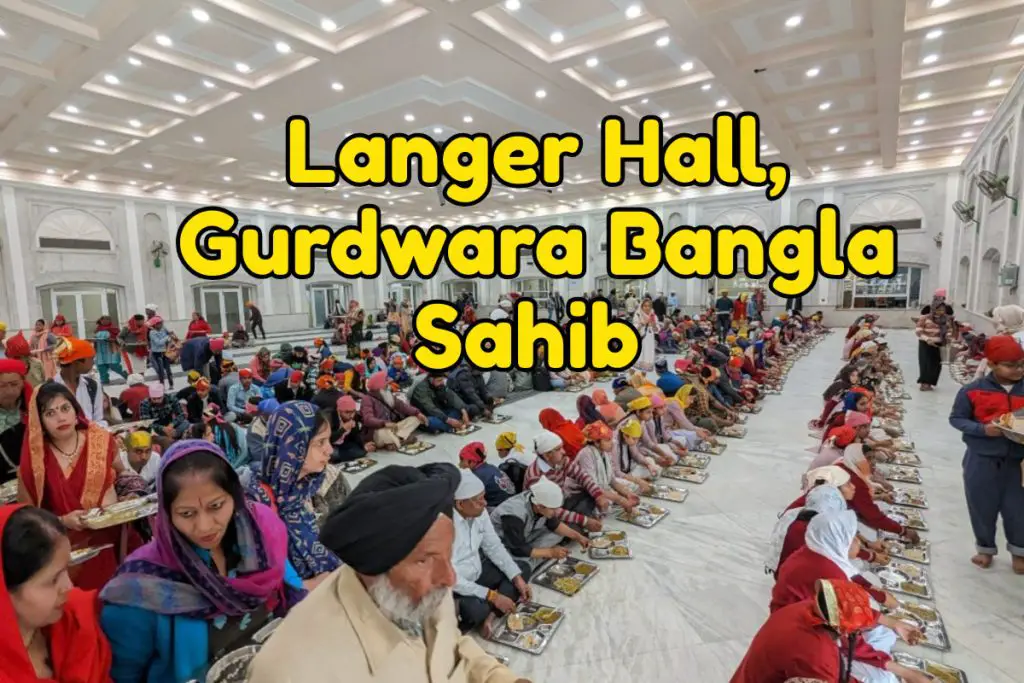 This was a surprise to me, I had no idea what was on the itinerary and when I walked into this place I was amazed. I walked into a wonderful place that provides a plate of food, free of charge, to anyone – no matter the person's faith or where they are from or how rich or poor they are. I walked through the kitchen areas as well as the areas where people were eating and I was stunned in a happy way. My feet on the other hand were not very happy, but it was worth it! Definitely check out the pictures at the bottom of this article.
Who should go to Langer Hall, Gurdwara Bangla Sahib?
People who are interested in how Indians give back to Indians, people who like food, people who have been impacted by the number of poor people around them in Delhi
Who should SKIP Langer Hall, Gurdwara Bangla Sahib?
People who don't want to walk barefoot on oddly greasy floors, people who don't like Indian food, people who think free food and think any free food is terrible.
First take your shoes off! – Langer Hall, Gurdwara Bangla Sahib
As we approached the pretty building we were escorted into a side room to remove our shoes. First I was grossed out that I had to take my shoes off to walk around the building that was essentially a giant working kitchen, but I got over that. I will note that when we got back to the hotel, it was the first time I ever wanted to wash my feet and apply hand sanitizer to them as soon as possible. However I do note that neither me nor my wife ended up with any foot related issues we have simply been conditioned to believe that we will get athletes foot anywhere that we go barefoot.
The Floors on Bare Feet – Langer Hall, Gurdwara Bangla Sahib
Walking around Langer Hall, Gurdwara Bangla Sahib barefoot was certainly an unexpected experience. All of the rooms had hard floors and each room had a different feel to the foot. The first room, was a large room where people sat on the floor to eat. That floor was mostly clean, but we were actively aware of how many other feet have been on that floor before we put our foot down.
Then we were escorted to the kitchen areas which I will go into more later, each of those rooms had a layer of… some kind of food or ingredient lining the top of the floor. The most oddly feeling floor was where they made the soup. There the floor felt as if there was a layer of fat on top of it. Making it feel gross and slippery. Everyone else there, from people who worked there to people who ate there, had bare feet so you have to go with it!
Eating at Langer Hall, Gurdwara Bangla Sahib
People lined up for food and were given large trays of food to eat, free of charge. It is most comparable to a soup kitchen, although there was plenty of food to eat besides soup. Each tray had an area for 5 separate dishes and no silver ware was provided because in India people eat directly with their hands.
The room was filled with people sitting on the floor and feasting on the provided meals. This being the first room that I saw, it was awesome! I loved the idea that this wonderful place provided food for so many people everyday and that was done out of love for mankind.
The Back Kitchen at Langer Hall, Gurdwara Bangla Sahib
In the back of the area where people ate the food, was the enormous kitchen. The entire process of making the meals were done by hand by groups of people who are mostly donating their time to aid in making the meals for the people. Some people were organizing spices, others were making dough for the bread, while others were turning that bread into chapatis. It was so cool to see a large pot of soup actively being made and how they were turning all of their ingredients into the other dishes.
Takeaways
It was pretty wonderful to see so many people pitching in to help the flood of hungry Indians eat a full meal for free. In fact, it appeared well organized and each area of the kitchen seemed to be organized into social groups. One of the best things about it was seeing the women helping to organize the meals because when in India I have to admit that I did not see many women working anywhere in the country.
I still think of that place. The way that Indians give back to their community and I admit that I am jealous.
Pictures of Langer Hall, Gurdwara Bangla Sahib