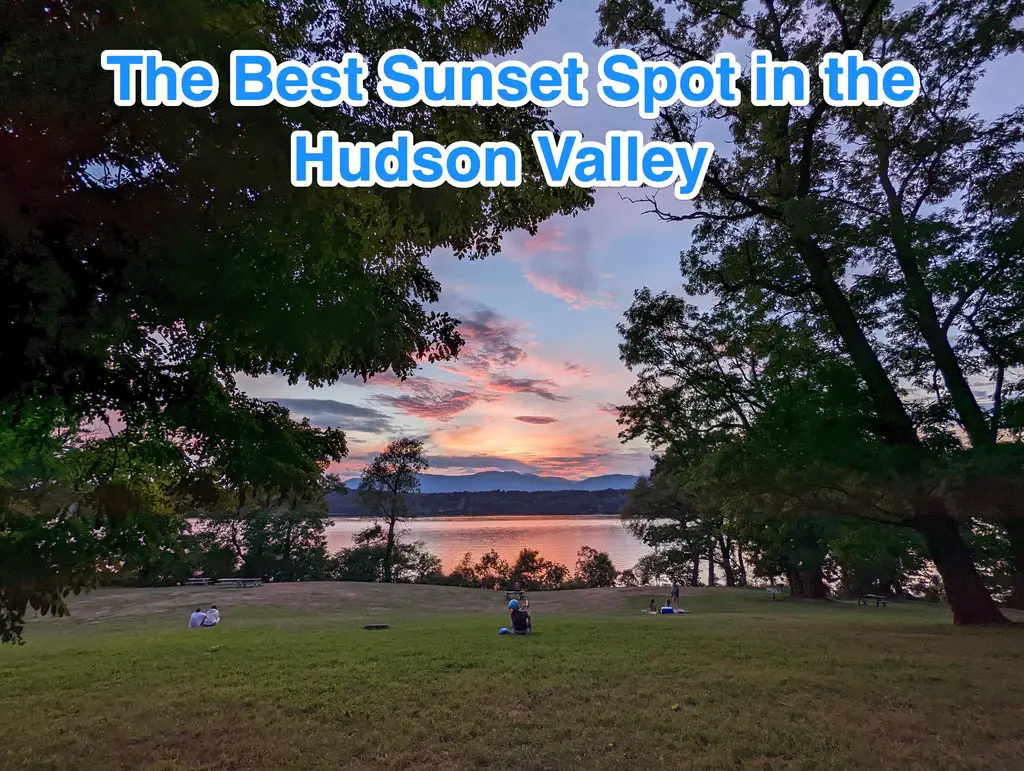 After visiting the Clermont State Historic Site I can say this.  It is the easiest to access and best public location for sunset in the hudson valley.  What makes it so great is that you can get to the view by the Hudson River by car so you can easily get a great view with low physical effort.  Which is perfect if you want to avoid a lengthy mountain hike to see a sunset or if you want to watch a great sunset daily.
Location: 1 Clermont Ave, German town NY
Who Should Go to Clermont Estate for Sunset: Sunset enthusiasts, people who prefer their air…. conditioned, people who don't want to hike
Who should NOT go to Clermont Estate for Sunset: People who aren't patient, people who , people who are vampires
Once you enter the park by car, follow the long winding road to its end to find the right spot.
Pieces of Clermont Estate in Hudson Valley
When you see the parking lot, you'll see the inviting view over the Hudson River facing due west.  There is a house on the property which can be visited, but we skipped it, opting to instead just enjoy being outside.  The best thing about this sunset view is that the parking lot goes right up against a downward sloping hill giving you an excellent view of the sun setting over the Hudson River from your vehicle. Being inside your vehicle is especially helpful in those hot summer evenings or cold winter nights.  On the lawn there are a few picnic tables alongside lots of open places where you could just lay on a towel to enjoy the moment.  
The Hudson Valley sunset of Clermont Estate
There is no park entrance fee and the downward slope means that there will be nobody blocking your view.  From the park itself, the curated lawn has a sunset facing view which combines trees, the water from the Hudson river and the distant hills and mountains on the other river bank.  We were there on Labor day weekend, and it was pretty empty at sunset, allowing people to spread out.  Providing you with that feeling of privacy despite being in a public area. Just make sure to organize so that you are able to see the sunset at least 30 minutes before the sun actually sets, here's your sunset timetable for Clermont Estate!
There are also trail hikes if you're in the mood to explore deeper.  There is free parking throughout the summer with an immediate and good view from the parking lot – where you can hunker down in your air conditioned vehicle.  Alternatively, you can walk 10 paces into the grassy park to get just a little better spot to enjoy your sunset.
So go on.  Get in your car, grab a drink or two and watch the sunset from this amazingly convenient location.
Sunset over the Hudson River