I was looking for a nice place to hang out and chill on my first jet-lagged day in Delhi, and since I was staying at an airport hotel because I was leaving in the early morning the following day I didn't want to go too deep into the city. Lo, and behold I found "The Atrium" at the Imperial Palace Hotel. The Atrium is a restaurant inside this high-class hotel and surprisingly the prices were pretty cheap. I was looking forward to walking around and checking out the property as well as sitting down and enjoying some quiet time for high tea!
Location: Janpath Ln, Janpath, Connaught Place, New Delhi
I arrived at the Imperial Palace Hotel and walked past the staff at the door, who were all dressed to impress.  Upon entering, there was a large space where people were checking in or out, along with a few helpful signs pointing in different directions to the other things to do and see at their establishment.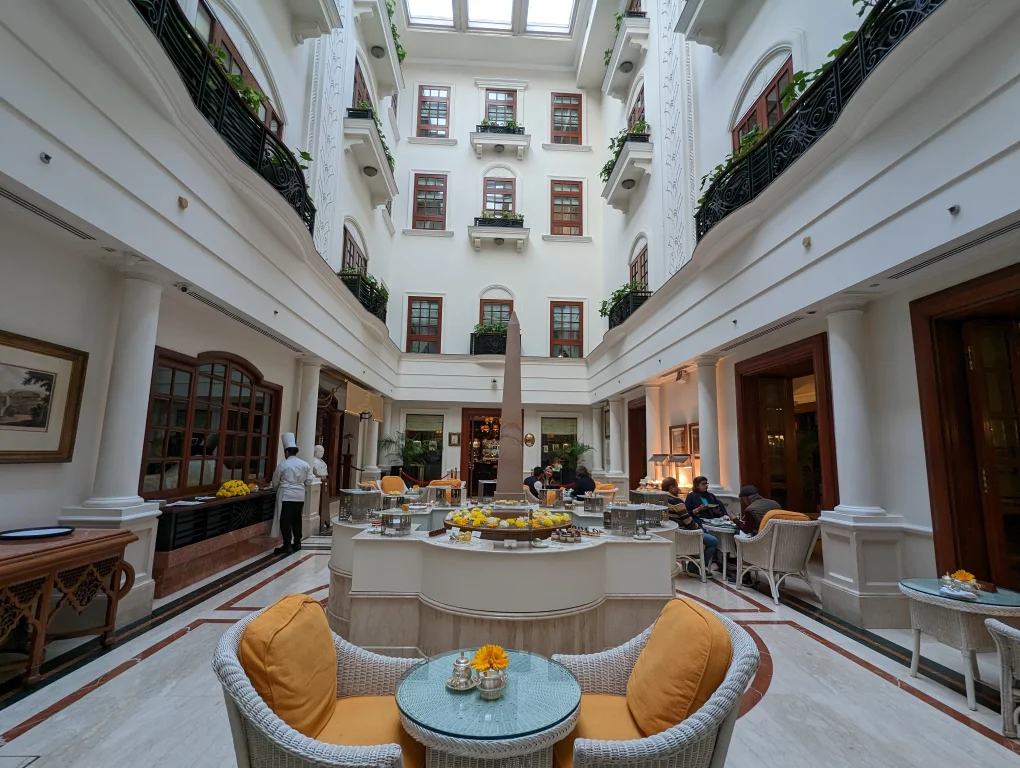 Today, I was looking for the "atrium" as that is where high tea is held and I went in that direction. Still, I couldn't go directly to high tea because the walls were adorned with classic Indian art luring me to explore not only the long hallways that led to different areas of the hotel but those different areas as well – such as the pool, bar, dining hall, sitting area and more.  
Each room had personality and eventually, I made my way to "the atrium".
The ambiance of the Imperial Palace High Tea in Delhi India
As I walked into the atrium I was stunned at the high ceilings and what looked like it could be 3-4 floors up.  The high ceilings were welcome and the room was filled with gentle, instrumental Indian music. The room's color scheme was sheer white, which went against the red that we observed throughout the rest of the building.  The contrast helps to keep your attention solely on the room that you find yourself in, better able to ignore any passerby who peeks in.  
Why am I at high tea in Delhi?
I never did a "high tea" before I met my wife.  The first time I did high tea with her was in South Africa and I essentially learned that high tea was a way to sit and pass the time while chatting and nibbling on delicious things with friends.
In Delhi, I went alone.  I went to high tea because I have a free day before I take a flight to my second location and I went to high tea because my wife talked to me about it.  Her idea was that I should do high tea because according to my own wishes, I would not see much of Delhi without her while at high tea and because there was no time to do it with her.  I was sad that I wouldn't be able to share this experience with my wife, but I knew she'd love to talk to me about it.  Moreover, I was jetlagged.  I needed something to do where I would eat and sit and relax and she hooked me up with that.
What is High Tea?
High tea is a classic British activity where in the afternoon teas would be made with both savory and sweet snacks being served on big, shiny 3-tier trays.  The event is supposed to be fancy!  Fancy tea sets, fancy-looking treats, and most typically a fancy high price tag.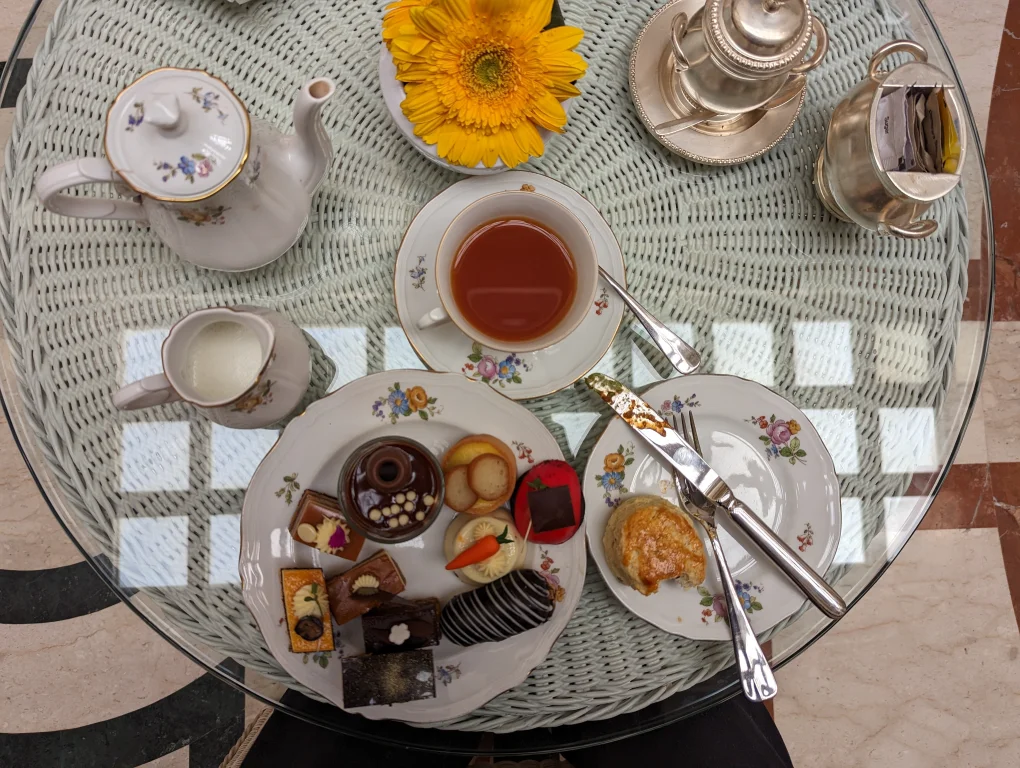 What makes the Imperial Palace High Tea Special?
The total cost of high tea was 2100 Indian Rupees after tax, which is about $25 USD.  It's oddly priced low for high teas in Delhi.  
The Imperial Palace in Delhi offered something unique, including some Indian savories and sweets.  For example, they have a gulab jamun flavored pastry as well as a number of savoy items that were inspired by northern Indian cuisine.  I was told that for some of those savory dishes, I should eat them with my hands – which got messy!
Speaking of, my servers were excellent, friendly without being overly so, and spoke English.  Always a plus in a foreign country.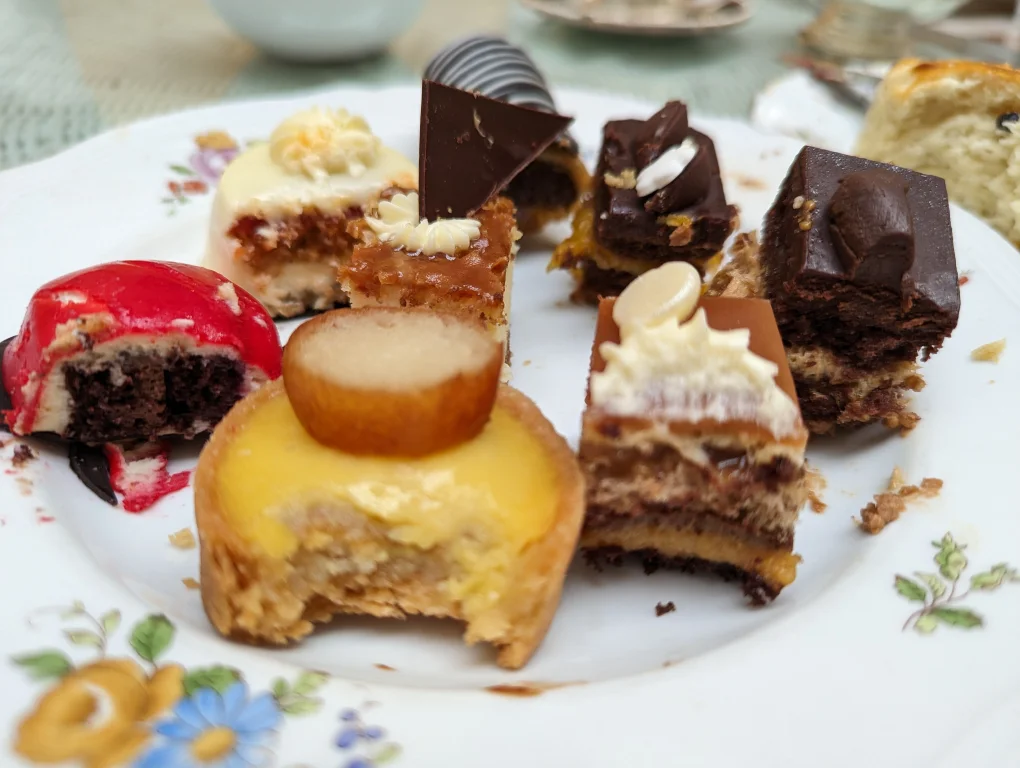 The servers did not serve me food.  They served me tea.  For food, I was free to get up and pick up the well-laid-out savory and sweet treats.  At first, I didn't like this idea.  I paid for the high tea, I want to be served.  But then I got up and got some things to taste and went back for seconds for the things I found particularly good.
They didn't rush me.  I could have sat there for hours.  They were not interested in rushing me.
Reflecting on High Tea at the Imperial Palace Hotel
While I sat back sipping my Assam tea and later my masala tea, munching on the small items available, listening to the light touch of Indian music filling the room and the light clatter of silverware and conversation I couldn't help but feel that I made a good choice.