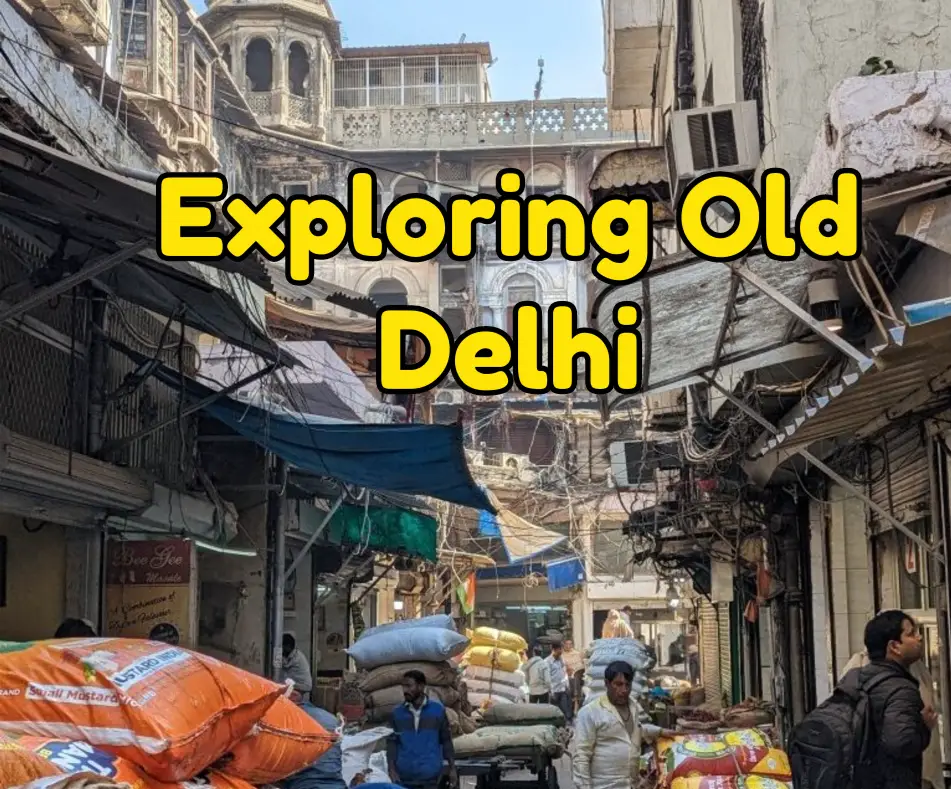 Monkeys scurry overhead, the smells of food being prepared, and the crowds fill the thin streets which are peppered overhead with exposed wires.  These are the qualities of the Old Delhi neighborhood.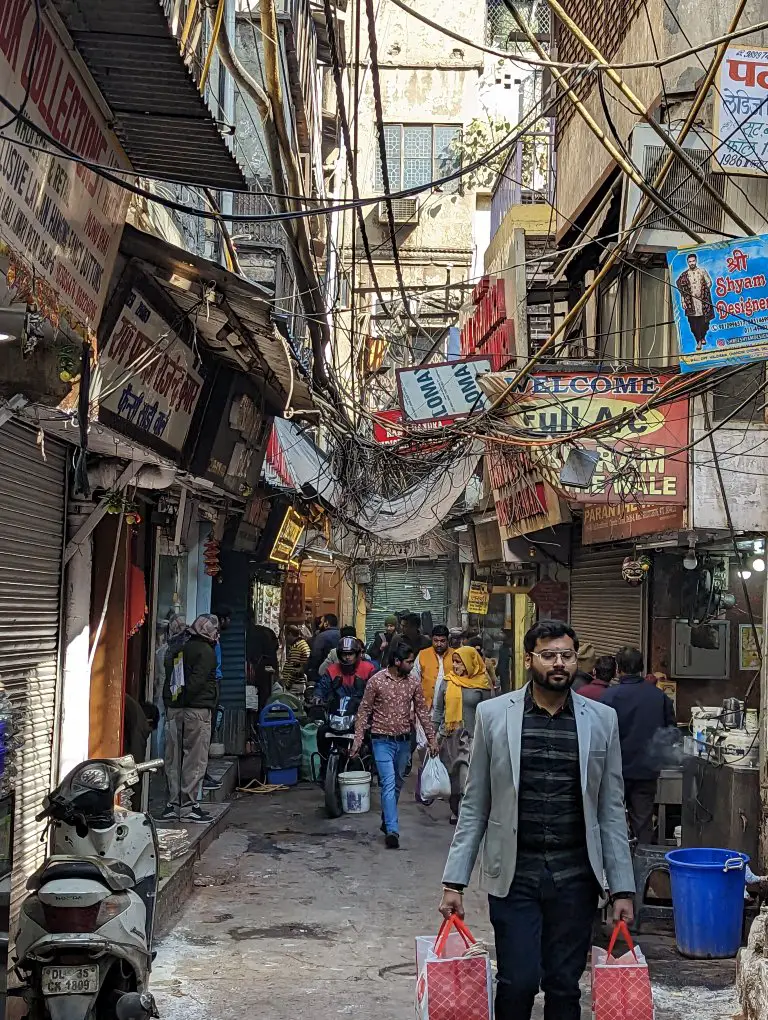 Old Delhi – The Scene
In addition to the exposed wires and monkeys overhead, the neighborhood is characterized by colorful stores, doors, and walls with even more colorful characters hanging out in each.  Everyone was busy working –  preparing food, transporting material through these streets, or selling things to customers.  In one way the busyness combined with the thin streets was overwhelming.  Eventually, you realize that it was like being in a wave, and you need to lean into the wave instead of fighting against it to be comfortable and enjoy the moment. So much so, that the monkeys overhead just melted into the backdrop of the city streets.
So, today my wife and I took a private guided walking tour of this area and it was awesome.  There are clear influences that this area has on movies, books, and video games due to the unique feel of the rich culture of this area. 
Old Delhi – Food District
Our day began in the food district of Old Delhi where the food and tea were actively and visibly being prepared.  I noticed a group of monkeys hanging around one story up from the ground, perhaps awaiting their moment to steal some food.  I watched them for a bit and noticed that the fruit vendor below them was actually feeding them.  I saw the vendor throw food up and the monkeys grabbed it, then I watched as they peeled the banana and ate it.  In my mind, it was essentially a pet for the vendor and most likely the vendor was throwing goods up to them that were unfit to be sold elsewhere.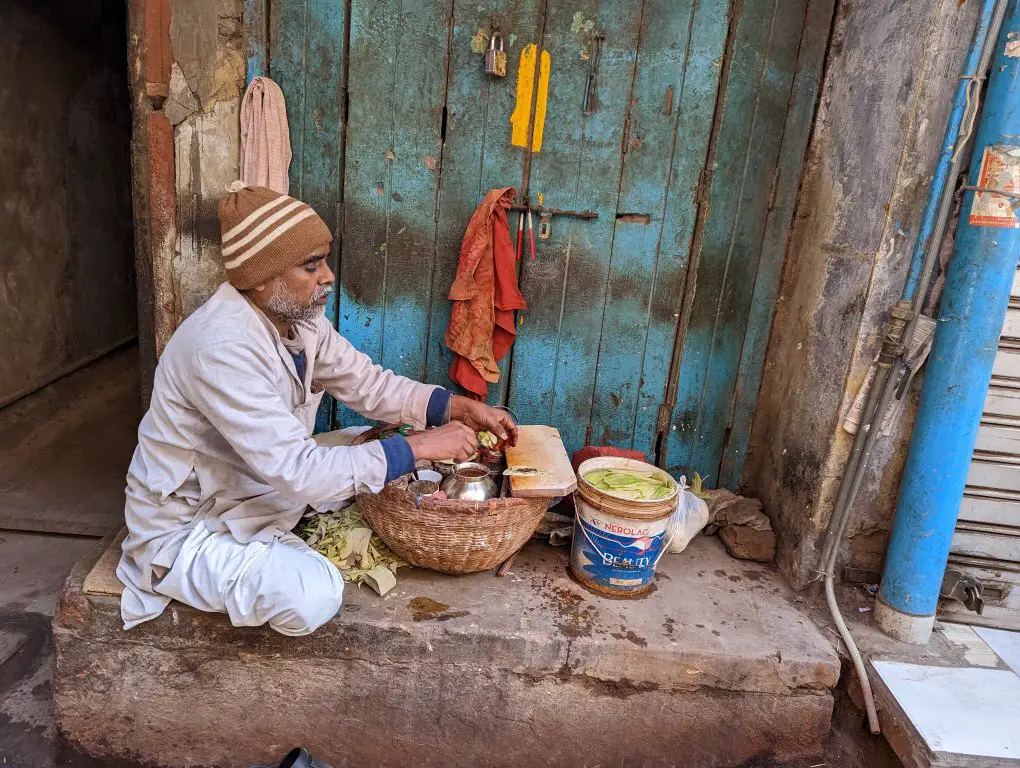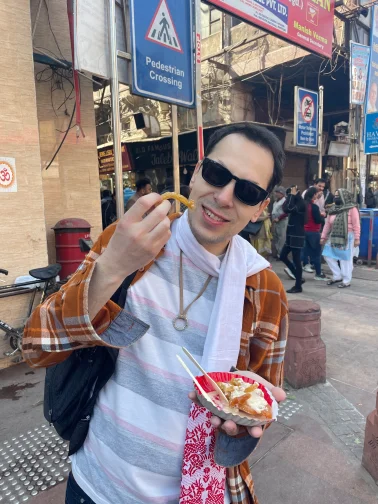 Old Delhi – Eating
The downside about visiting the food area first was that I wanted to try everything and I know that we need to care about what we eat in India to avoid "Delhi-belly".  Luckily for us, our guide was a bit of a foodie and knew a few spots where we could more safely purchase and eat things.  One of my favorites was "Jelibe" pronounced "Jelly-Bee", which was a sticky bready pretzel-looking thing.  It was sticky and sweet and quite delicious!
Old Delhi – Spices
Then we made our way through the spice district of Old Delhi.  Here the sights, smells, and colors were brought to an entirely new level.  In fact, we were warned by our guide that if we had allergies or were sensitive to smells we should avoid them which would have been a shame.  Most vendors specialized in spices from throughout India, others in nuts, and more. The dynamic colors of the spices added nicely to the palette of the colors of the neighborhood.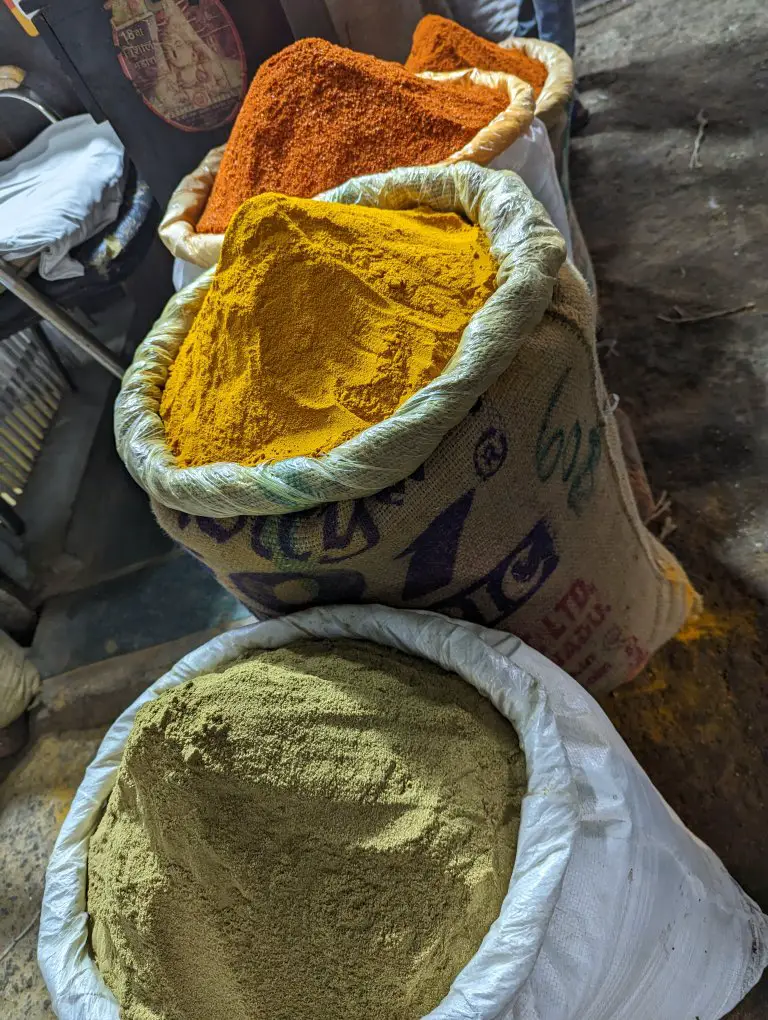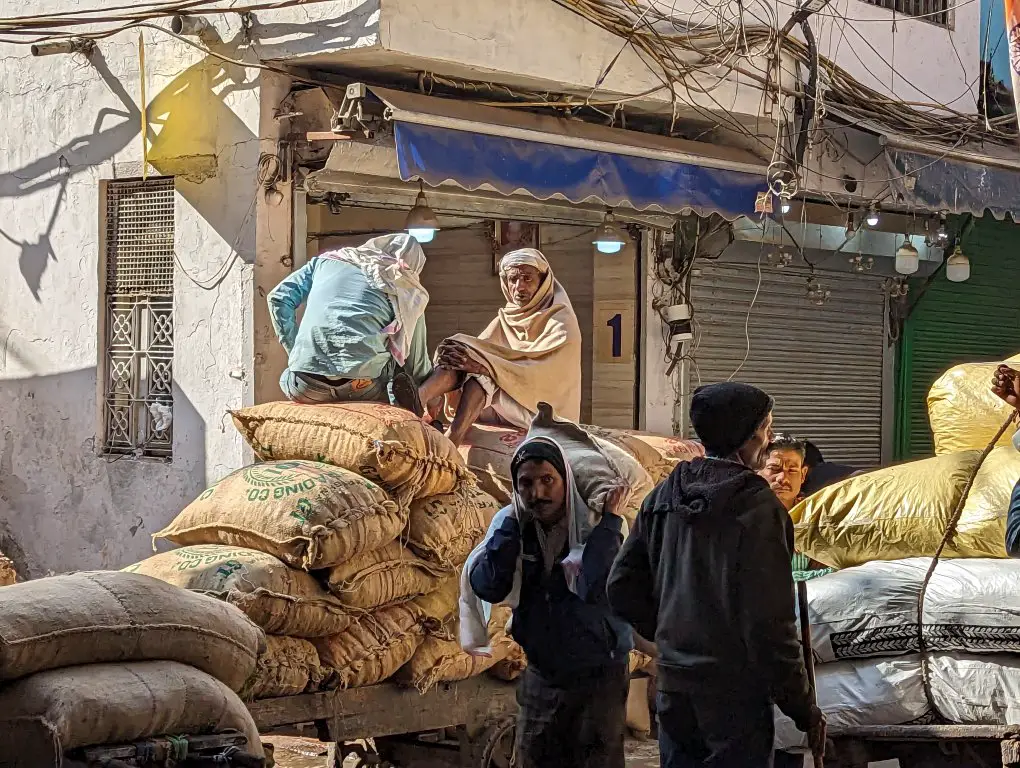 Old Delhi – People
As we made our way through the streets we often saw people sitting high up and appearing to be just hanging around.  As we negotiated our own steps through the street so did people who had gigantic and heavy-looking bags stacked on their backs and sometimes they even had a cart of things that appeared to be delivered.
Old Delhi – Crossing the Street
Crossing streets was more of an effort of stopping traffic with our arms before stepping in front of people or small vehicles. I was happy that we had a guide that I could mimic while I get a stranglehold on how to handle moving through traffic without a vehicle.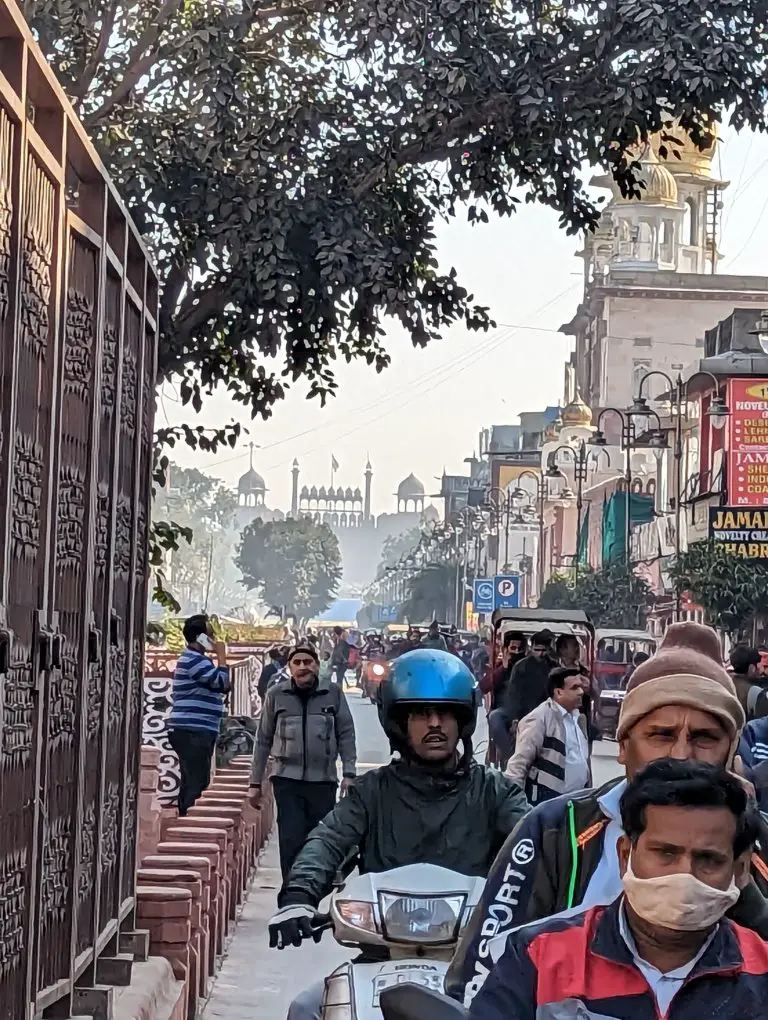 After some time wandering through the streets, we were back at the car and heading much further away.  It left me wondering what treasures I would discover if I were left alone to spend more time there.  Alas, that will have to wait for another visit.
It is odd for me to categorize a place as special.  Old Delhi is one of those places where I would like to truly spend a day just enjoying meandering around again.