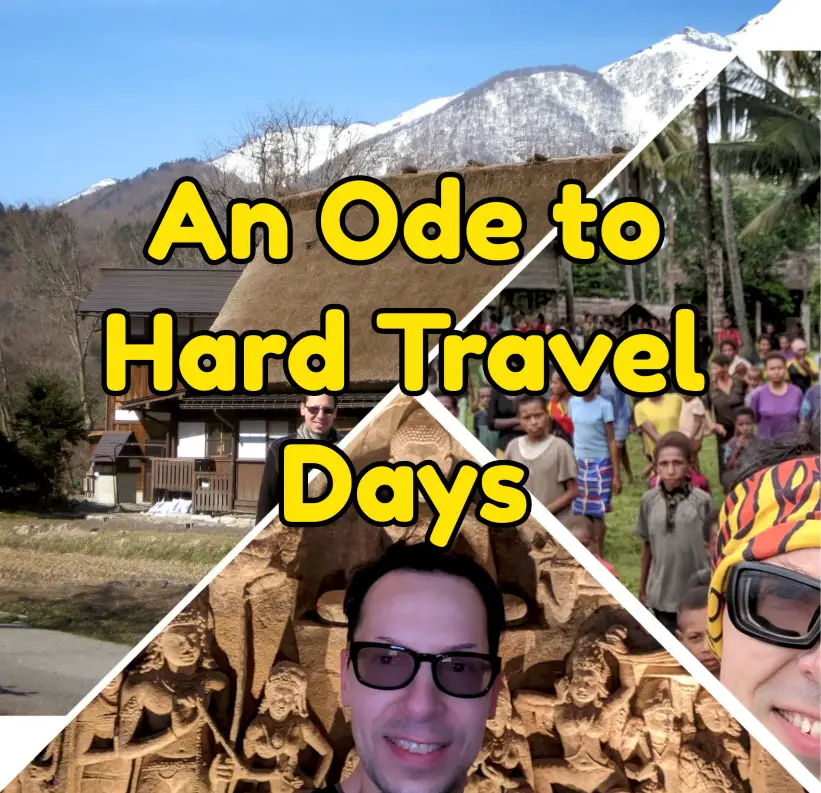 I have this craving, this unending desire to go to the hard to get to places, to see those things that most people would avoid due to how troublesome it is to get there. I want to see it. I want to go. I want to see what is on the path and I want to explore what there is to see off the path, I want to see the light and I want to see what's hidden in the dark. But getting there is hard. This is my ode to the long, hard travel days that help me get to those places.
For the last week, I've been traveling to a number of very remote locations in India because I want to see the most unique and amazing things in the country – such as Ellora Caves and the Double Tree Root Bridge, and it has taken a lot of time actually to get there.
All hard travel days are self-inflicted wounds. I choose to do these activities at this time and by choosing to do them I caused myself to have difficult travel days. When I tell the tale to friends, I am sure my focus will be on what I did. I also realize that the fact that the things I want to do are hard to get to, makes them all the more exciting and appealing to me personally. But getting to these places is… hard.
Hard Travel Days – Example 1 from India
The first example is getting to Ajanta Caves in India. First, I took a car to the airport in New York to arrive 3 hours before the flight and flew 16 hours to arrive in Delhi late at night. Where I attempted to sleep until my 6 am flight For the flight, I had to be at the airport at 4 am to take the 2.5-hour flight and arrive in Aurangabad India at 8:30 am. Upon arrival, I was very jet-lagged and greeted by my smiling driver and guide and together we drove for 3.5 hours in a car to Ajanta Caves where I got to see them in all their glory. Then I was driven 3.5 hours back to Aurangabad to book into my hotel rest for the next day – Ellora Caves.
So for me to see Ajanta and Ellora Caves was challenging. My bio-clock was completely off, and I continued to have the stress of getting ready for the next leg of the journey, whether I would even make the next leg of the journey I had been traveling for days without a break. Most people just wouldn't have done it.
So why did I do this to myself? People would tell me that I could have built-in a few more days and made it easier. But I just want to see so much. I want to see the remote regions where when they see white people like me, they are surprised and the locals have that innate curiosity about outsiders. If I took more time to get there then I wouldn't see as much in the country. I still dream of being rich and retired and being able to take my time, but I also don't want to wait until I'm in my 60s to exploring the world the way I want to.
Hard Travel Days – Example from Papua New Guinea
The second example is the Karawari River in Papua New Guinea. This is a very remote region of Papua New Guinea, a place where I would get to go down the river and meet the local tribes along the way. In order to get there I flew from the main airport in Papua New Guinea to the more local Mount Hagen airport, where I took a car to a separate lawn take-off point for a tiny plane. I waited for the plane to arrive, then got on board for the most interesting flight of my life where there were only 6 passengers on board and I could see and speak with the pilot during the flight. Then the plane landed near Karawari River and I took a jeep for about 1 hour to my place to stay before trekking out to see the tribes the following day.
It was a full-day journey and it was hard. It was hard because despite how excited I was to get to Karawari River, I still have this one body. This body does not like the act of traveling for so many hours. It's like when you're on a 24-hour plane and you know it's going to be an annoying flight, but you do it anyway because you want to see the world.
The value of hard travel days
If the idea of pushing yourself to get to a remote area sounds terrible then know that you have options. For starters, you could simply choose to not go to those places or you can choose to stay overnight along the way and find other things in the area to keep you busy. However, since I am a working person my time away from home is limited. For me, the value of hard travel days is that I get to be at the places that I dream of without wasting much time. Yes, it is challenging at times as my body does not like the lack of sleep and the uncomfortable positions of the day or two that it gets there, but I will always elect to take the hard road to an interesting place.
Are hard travel days worth it?
For me, they are worth it. Hard travel days simply mean that there will be fewer tourists and that I will be more embedded in the culture of the place that I have visited. At least for now. As I get older perhaps my preferences will change.