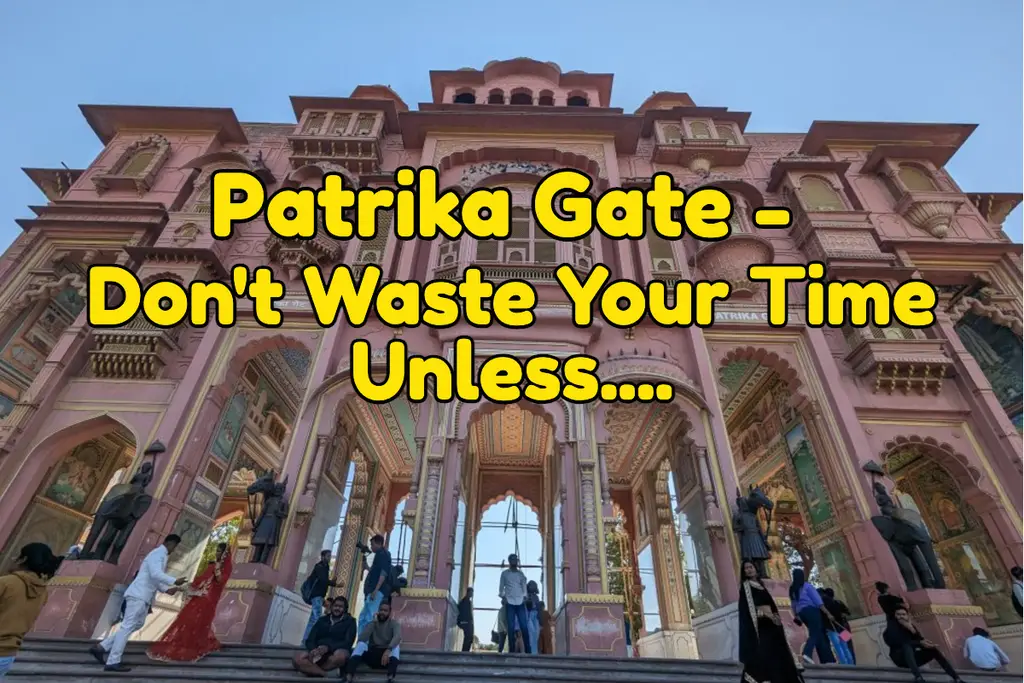 I know what you're thinking. It looks so pretty! I would love to get a couple of photos of it up close! Yes, I do admit that being under the Patrika Gate for that brief moment was pretty cool, but after 30 seconds it's over and there are other things to see in Jaipur, India that would be more worthwhile. Unless you flew to Jaipur, in which case the Patrika Gate is 5 minutes from the airport. The Patrika Gate is a 30-minute drive outside of downtown Jaipur – without traffic, making it an hour's drive back and forth with nothing to see in between. Moreover, we experienced traffic getting there and back increasing the amount of wasted time. So this post is to discuss the merits of visiting the Patrika Gate, why you might want to stop to take a close-up look at it, and why you generally shouldn't waste your time.
Quick Map Location: RRR2+MH2, Jaipur, Rajasthan, India
Getting there: From downtown: A 30-minute drive without traffic. From the airport: a 5-minute drive.
Should you go to Patrika Gate?: If you are coming from the airport then yes, otherwise NO.
When is it open?: It is open 24 hours, there is no ticket to buy it is an open monument
What is visiting Patrika Gate like?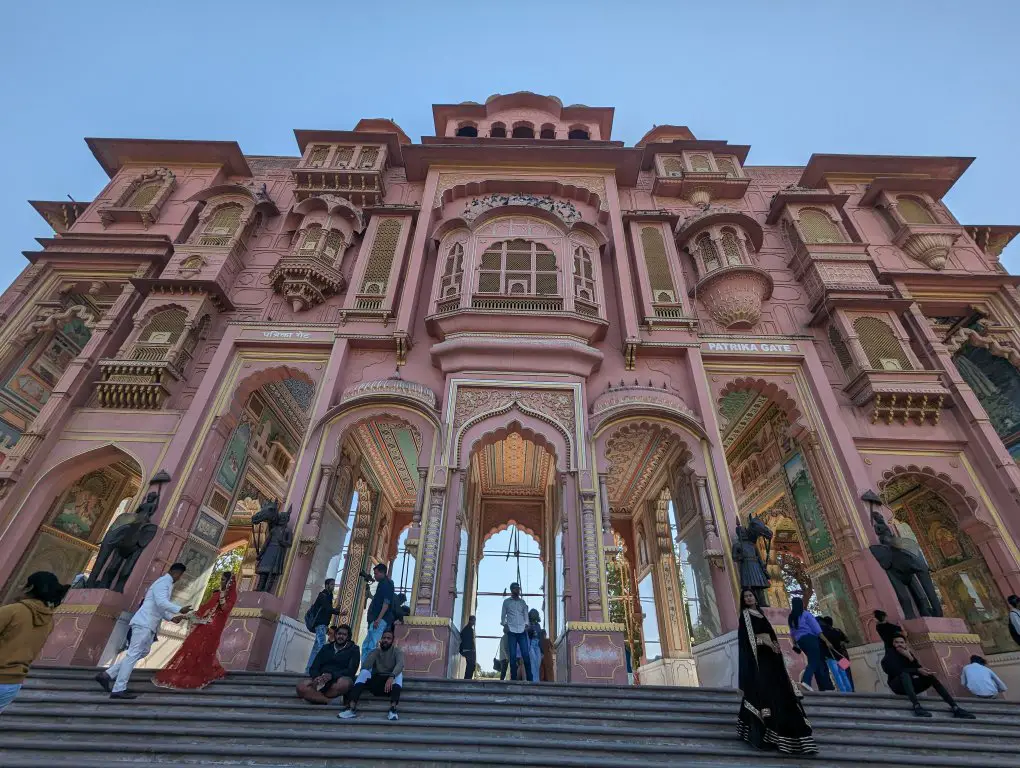 You've seen it in the distance on multiple occasions while traveling through Jaipur and you always wondered if it would be best seen up close. The answer is YES, it is better to see it up close it's just not worth your time to go there to go see Patrika Gate, especially given the high-traffic area in which it stands. Once you exit your vehicle you are looking directly up at the Patrika Gate, which is completely towering over you as you slowly walk up the steps taking it all in. Wow, it's huge and very colorful, but mostly pink on the outside! The arches in the structure and the large columns of the building make it beautiful to see from the outside.
Patrika Gate – Wow Factor
Walk just under those arches and you find yourself staring at the explosion of colors in the artistic and wonderful small hallway area where everyone appears to be taking pictures. Everyone. If you're having an upcoming wedding, your photo is taken here. If you're an Instagrammer, you're setting up your shot and waiting for that perfect empty moment for at least 30 minutes.
Being at the Patrika Gate is amazing because underneath them there is a long view through the many arches with detailed colorful paintings of the walls and ceiling that include carvings, and ornate motifs representing the heritage of Rajasthan. Seeing this beauty blew me away and made me appreciate the work that went into creating this gate in 2013.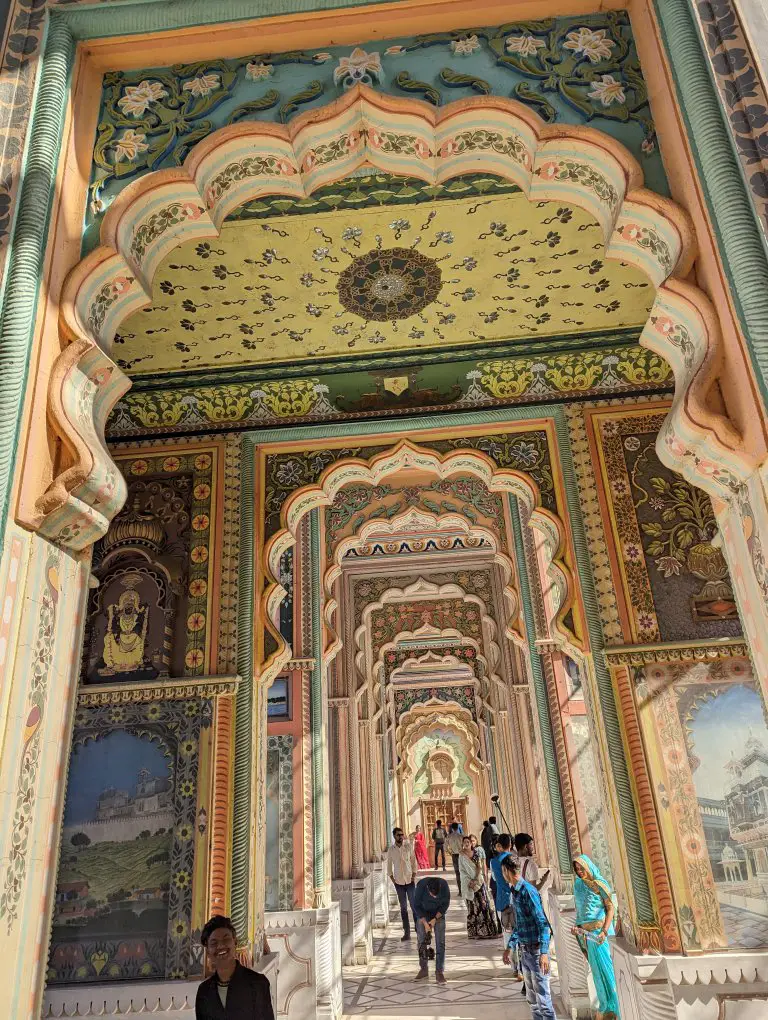 Was my visit to Patrika Gate Worth It?
No. What I saw at Patrika Gate was wonderful, but due to traffic, it took much longer than needed to get there and back (2 hours there and back instead of 1). The entire visit only required 10 minutes, and Jaipur simply offers so many more ways to enjoy my time.
Again, if you're going to the airport, sure stop there otherwise don't waste your time.
A Little History of the Gate
In 2013, the Patrika Gate was built through a collaborative project between the Rajasthan Patrika newspaper group and the Jaipur Development Authority. They designed the inside of the structure to represent different aspects of Rajasthan's history, including its folk music, dance forms, festivals, and famous landmarks all created in vivid colors. The structure itself was built using traditional Rajasthani techniques and style to best highlight the influences of the region.
Final Word on Patrika Gate
Patrika Gate is phenomenal, but given that it was built in 2013 they should have chosen a better location! The Patrika Gate has become iconic in Jaipur, but if you aren't flying in or out of Jaipur don't waste your time going there. The "garden" behind it is also not worth it and barely a garden,
Pictures of Patrika Gate