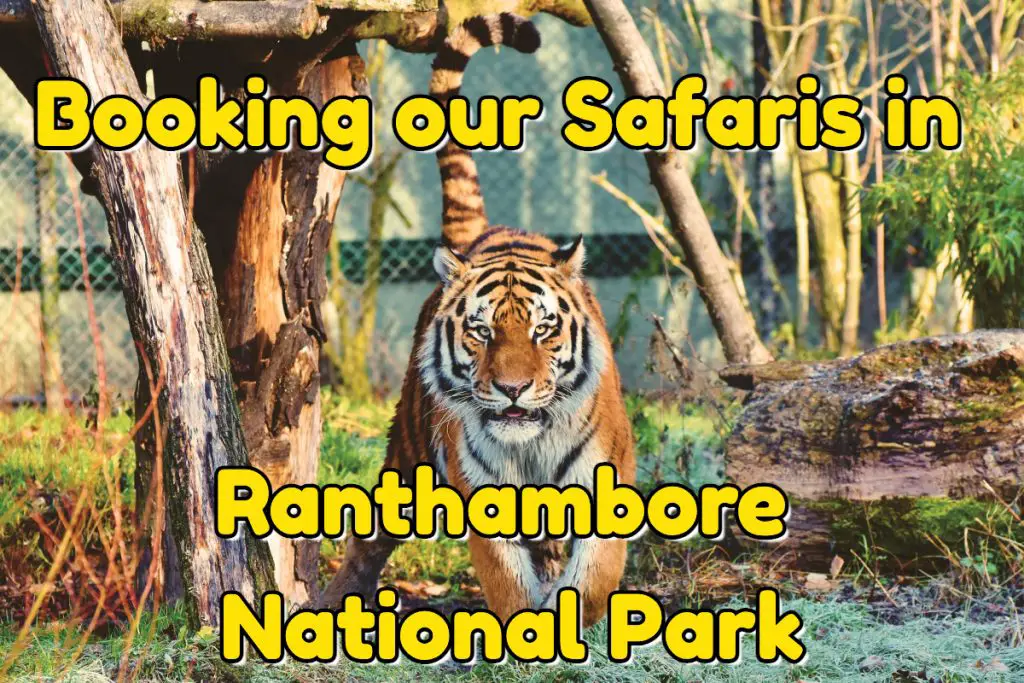 Ranthambore safari – the place in India where we hope to see Bengal Tigers along with a ton of other less publicized wild creatures and landscapes. We chose Ranthambore because of the likelihood of actually seeing a Bengal Tiger, about a 25% chance per safari, and because of the location. It's located about a half-day drive outside of Jaipur and a full-day drive outside of Agra – which is where we will be coming from.
I have found that most things in India are harder than they should be and booking safaris is no exception.
In this post, I detail the challenge of booking three Ranthambore safaris. You can catch up on what work we've done on selecting our Ranthambore safaris or catch up on our overall India vacation planning.
Due to my knowledge of the aforementioned India scams, I contacted our hotel for recommendations on who to work with to book our trip. One group responded immediately and with a much lower price. The other group responded with a typical 1-2 day delay and came in at a much higher price. We went with the first group.
My gut told me that the person I was working with would also be the Jeep driver, as we wanted a Jeep tour with max 6 people instead of a cantor tour which has a max of 20 people. For three safaris including pickup from the hotel and drop off back at our hotel, the price was about $200 USD for both my wife and I. I am very happy with that price.
So I respond to our guide "Shamim" that I would like to book with him. In order to reserve the safaris on a Jeep, we need to provide them with a deposit. They do not accept credit cards, they accept wire transfers. I'm not a big fan of wire transfers as I feel they are over-complicated for what the process should be, but I go with it. I go to my bank online and see that I can set up a transfer but require additional information on who I am paying. I organize that information with Shamim through WhatsApp.
Let me give a quick, non-sponsored, commentary on WhatsApp. I've found over the last few years when going to foreign countries that the vast majority of people who we work with want to communicate with us over Whatsapp. I believe that WhatsApp should likely be the tourists' go-to app for communicating now and in the future with guides on vacation. The great thing here is that we can have a conversation via text, and can even call each other if needed without the insane prices of using the cellular network.
So after reviewing my wire options on my bank's site and gathering the additional information needed via WhatsApp I decided that I really had to walk into my bank to make sure I wasn't messing anything up. The deposit was $128 and I just wanted to make sure it would get there. At the bank, they tell me to just do it online and the fees will be $50.
I despise large fees for something that should be simple.
So I do a little research. I learn that apps like Venmo can send money to India with low fees, so I ask Shamim via WhatsApp if he could receive money that way. He said to use GPay. Great, that's just that I need, another money app on my phone. I download it and research how much it costs to send money to India and learn that in order to send money to India I must use a third party. Surprisingly the third party offers me fee-free money transfers! (Update, there was $10 fee from my bank for using the service)
Everything is great despite the fact that it took me a day to figure out that strategy, so I contact Shamim and verify all of his information that I enter into GPay and send the money.
Instantly it is received!
Within 5 minutes I get a call from Shamim he says, "Adam, we were able to get zone 2 and zone 3 booked, but we cannot book zone 4 as it is full".
First I level my head. Zones 2 and 3 were the zones that I really wanted since they have the highest probability of seeing Bengal Tigers. Zone 4 was an add-on. I know that I only would want to go to zones 1-5 and I figure that we should go to different zones each time.
Zones 2 and 3 tours and dates are booked meaning that we can't just shuffle them around to try to find an option to fit zone 4 in. So I just say, "can we do zone 5?"
Shamim checks on his end, says yes and we book it!
As I said. It seems that so far everything in India is harder than it should be but I am happy with the result and looking forward to 3 safaris in Ranthambore.