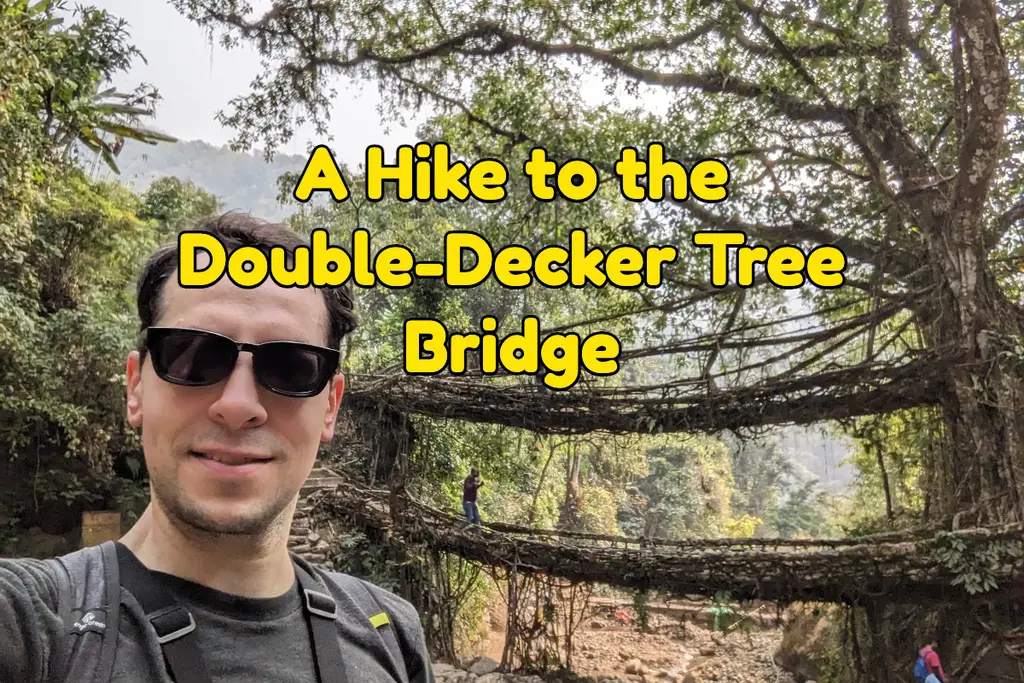 I learned about the fantasy-like tree bridges of India while I was doing a deep dive into UNESCO world heritage sites in India where the tree bridges popped up as a recently added site! When I am trying to find the areas of a country that are the most unique, I often browse the world heritage sites UNESCO because they protect many exciting places in countries across the world and also because I can see each of them on a map to assess better the possibility of getting there.
The tree bridges of Cherrapunji are made entirely of living tree roots and are used as footbridges to cross rivers and streams in the dense jungles of the region. The tree bridges of Cherrapunji are made by training the roots of the Ficus elastica tree to grow in a specific direction and then guiding them across a river or stream and I just had to see them for myself. Cherrapunji is known as the rainiest place on earth so I had planned to go during the drier season to avoid both getting soaked and to avoid the heat.
Getting to Cherrapunji
Cherrapunji is tough to get to, so if I was going to get there I would need to go in the first week of my trip – before I was joined by my wife. To get there, I had to fly into Guwahati Airport, drive 7.5 hours to Shillong, sleep overnight, and spend a day driving through the waterfall and cave route to arrive at my hotel that would be near the top of the day-long hike that leads to those fascinating tree bridges.
I was coming from Aurangabad, where I visited Ajanta and Ellora caves, leaving by the first plane leaving at 8 am arriving in Delhi, then switching planes to get on the 3 pm plane to Guwahati where I arrived at 6 pm. Upon arrival, I met up with my driver and set off on the 5.5-hour drive to my Shillong hotel. I was advised that my driver didn't speak English other than understanding "toilet" – of which there was only one available along the recommended route. I slept overnight and woke up for an early breakfast and headed out on the final leg of my trip to Cerrapunji along the waterfall and cave route, detailed in a previous post. Then I arrived at a popular hotel for hikers where dinner was served and I found myself boiling water in the teapot in my room to make sure it was safe to drink then transferring the water into my water bottles for the following day's hike.
The Start of the Hike to the Tree Bridges
In the AM I had breakfast and set out by car to the start of the hike to the tree root bridges of Cherrapunji. The hike began with me renting a bamboo walking stick followed quickly by some amazing views of the surrounding mountains and by walking down 3,000 steps and passing by 2 villages. I noted that there were rare but useful places to stop and potentially load up on fresh water, food, or other drinks.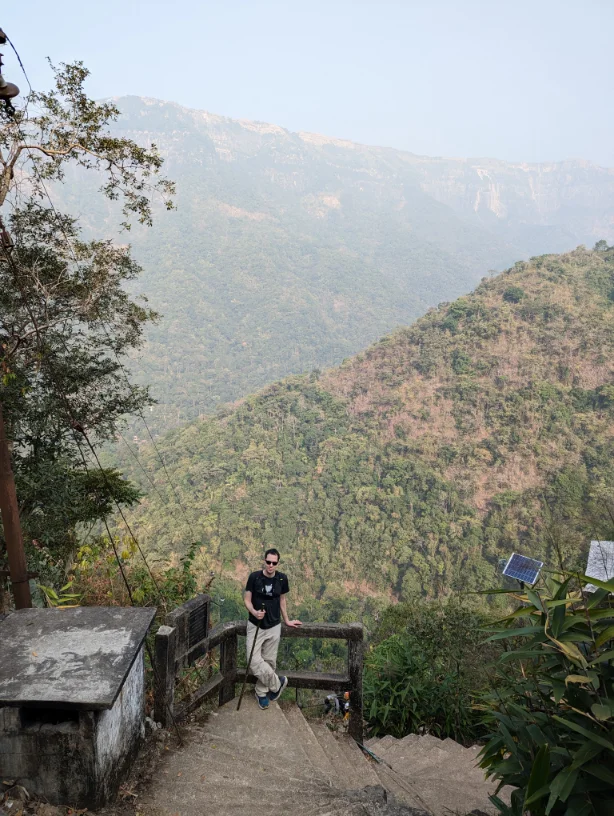 After those 3,000 steps, I continued hiking through the jungle, among giant rocks, through ravines, and over bridges. I was once again surprised by how many people were doing the hike at the same time as I was, but this was just something I had to get used to as I found this common in India no matter where I went. The very few root tree bridges that I saw on my hike down to see the double root tree bridge had me curious as to how much better I would think that it was.
Regardless, what I saw along the way was phenomenal.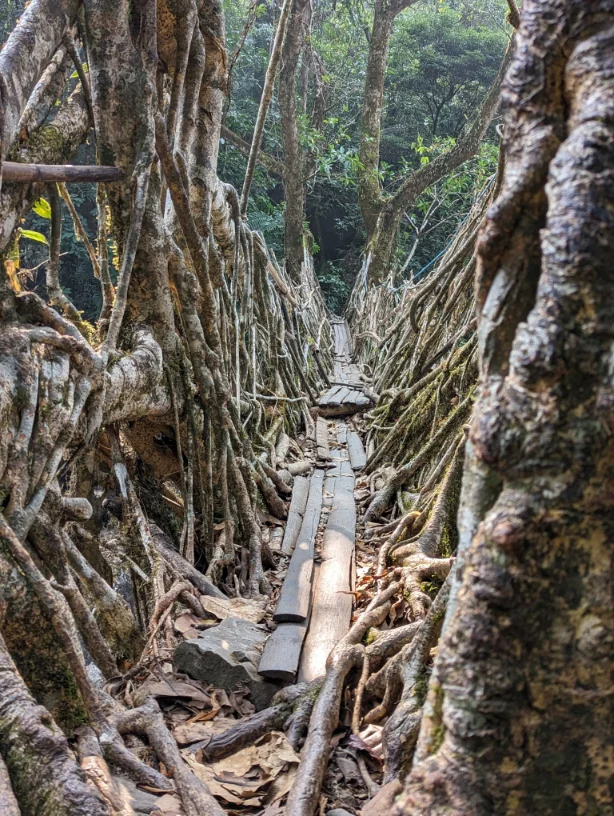 The Double Root Tree Bridge
After about 3.5 hours of hiking, I arrived at the double-root tree bridge. When you first approach the double-root tree bridge, you only see the entrance to walk across the top level along with a small group of people in front of you staring in awe at what they are seeing or perhaps being patient for the Instagrammer who is attempting to take a photo. But I needed to see it! So the first thing I did was walk down some small steps to the river bed that was filled with giant rocks.
I sat down on the rocks, the first time I sat all day, and enjoyed the movie-like picture like was in front of me. As I sat, I learned how the locals were attempting to grow another root tree bridge to pair with the other two, creating a tri-root tree bridge for future generations to enjoy. Looking at it, wiping the sweat from my face while drinking water near the only bathroom along the hike, I breathed in deeply. All around me were the sounds of water trickling down the giant rock I had sat on and in front of me was a one-of-a-kind natural bridge. It would be a great place to chill if only there wasn't so much more to explore.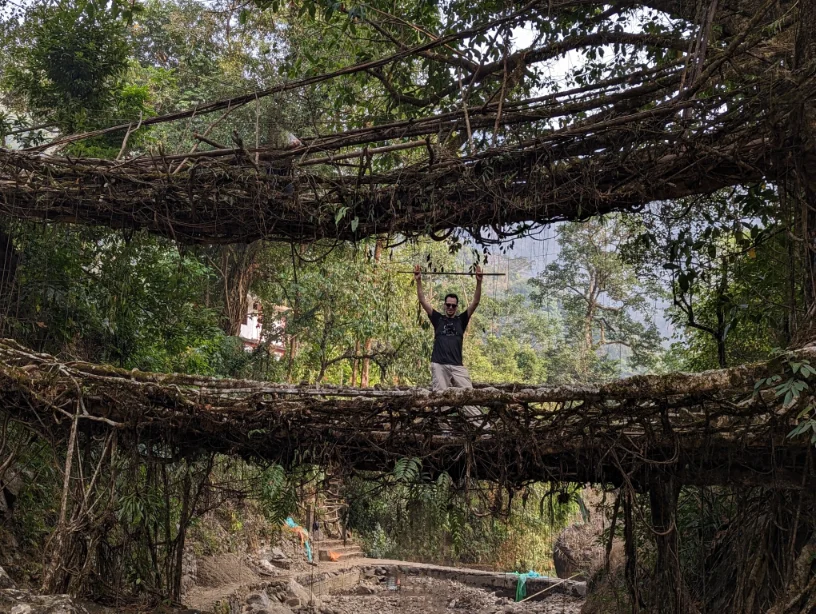 My next step would be to start the hike to the rainbow waterfall but right now I needed to walk across this bridge and experience it for myself! The double-root tree bridge had wooden planks going across it due to the sheer number of people who wanted to jump on it. However, I noted that other tree bridges often lacked these boards.
The Rainbow Waterfall
Continuing from the double-root tree bridge, I embarked on the hike to the pleasant rainbow waterfall. It was not close. In fact, I was surprised at how long it took me to get there, about an hour and a half of hard hiking over rocks and poorly built stairs and ladders.
Once I arrived I realized how beautiful it was and how the extra time was worth it. The final few steps brought me down a steep ladder and across some large rocks. I couldn't get over how relaxed everyone seemed here. It was as if we all had entered a lower state of consciousness to enjoy the moment and I was excited to join that moment of calm after the big hike.
Once in view, the rainbow waterfall blew us away. I saw that it was actually a set of 3 waterfalls that led to the final, big waterfall that fed into the azure pool. The water was cold and many people had taken off their shoes to dip them into the water and cool off. I saw other people on top of giant boulders clearly enjoying the semi-private moment. I wish I could capture the feeling of that moment fully so that I could re-experience it when I had more time and energy.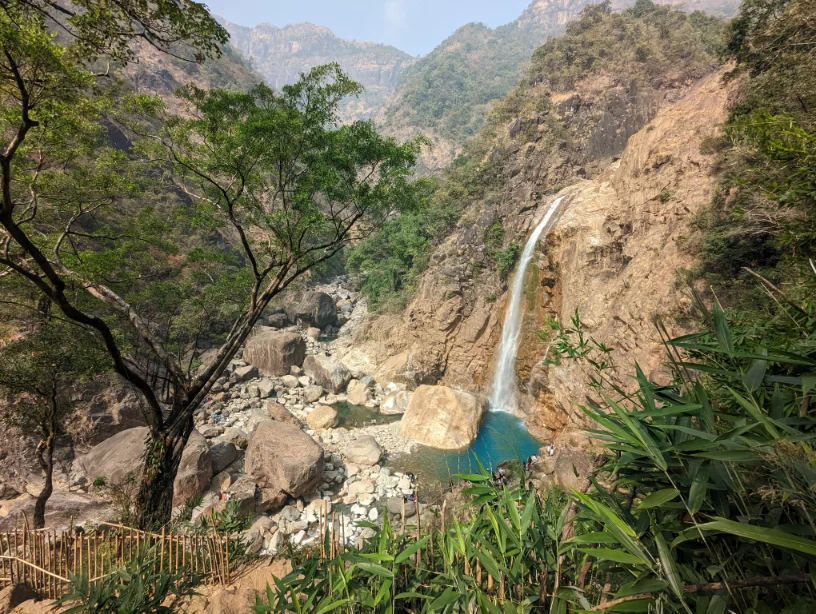 The Hike Out
After 45 minutes I had to turn back and start hiking out of Cherrapunji. After one and a half hours of hard hiking, I passed the double-root tree bridge and took a moment to once again be in awe of it. Then I continued the long journey to the start of "the 3,000 steps", which I had long been concerned about and happy that I had practiced walking up hundreds to thousands of steps at a time before coming to Cherrapunji. At the bottom of the steps, I took a moment to embrace the fear. My legs were tired from an all-day hike and now I was going to walk up 3,000 steps.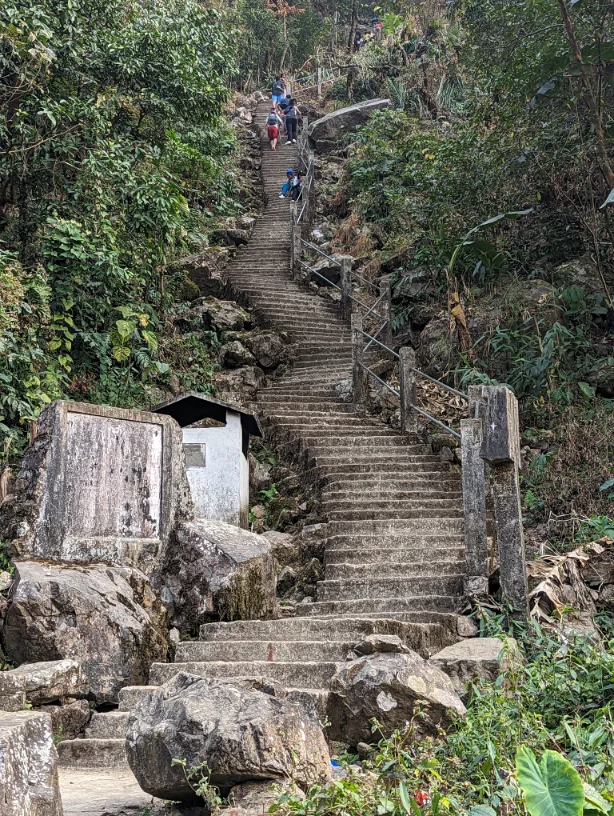 The final 3,000 steps out
From my training, I knew that I had to pace myself. But did I listen to myself? No. For the first 100 steps, I went too fast and needed a rest. My guide looked worried… Then I started back up again with the proper strategy – take each step very slowly, pacing like a turtle and not a hare. That worked. I walked up the next 2,500 steps in one go and boy were my legs tired! I rested, not knowing that I was only 200 steps from the top, I added some electrolytes to my water and drank. Then I got up and was thrilled that after 200 more steps, I had reached the top!
Immediately at the top the bamboo walking stick that I rented was taken from me as I made my way to the area where I would wait for my car. My legs were really tired, and the few steps at my hotel were not welcome. The pain in my legs lasted for the next 4 days of the trip but the memories will last a lifetime.