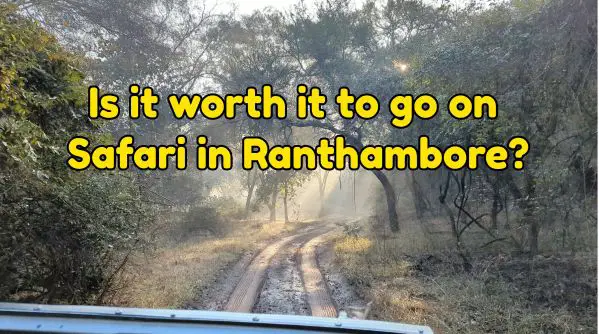 The safaris in India are famous for their Bengal tigers. In Ranthambore National park there is a 25% chance of seeing a tiger each time that you go on a safari, so we went to Ranthambore to go on 3 regular safaris and 1 river safari in hopes of seeing wild animals and possibly the tiger.
Reserving my seats for the safaris was a unique experience and naturally followed the traditions that we've seen in India of attempting to avoid being scammed for our money. Happily, when we were at Ranthambore, our seats were in fact reserved for three safaris! We chose to go into zones 2,3 and 4 – as zones 2 and 3 were well-known hot spots to see tigers and in zone 4 there would still be a possibility.
And no… the safaris in India should not be compared to safaris in Africa
Location: Ranthambore National Park, India
How to get there: Take a car from either (6-7 hours) Agra (Taj Mahal) or Jaipur (4-5 hours)
Overview of the Ranthambore Safaris: In India, your hotel stay is entirely separate from your safaris. You book the safari before you arrive with the option of a Jeep which seats 6 people max or a Canter which seats 20 people. The safari Jeeps pick you up at your hotel at an estimated time. The safari itself is fine, there are not many large animals besides the Bengal Tiger and the guides are not very informative.
What was it like on a Ranthambore National Park Jeep Safari?
We have an assigned time to be picked up from our hotel where we need to be ready for the Jeep. In our hotel, there was a nice waiting area and people were called as their rides arrived. Sometimes your jeep would be early you'd wait around for 30 minutes questioning if you've been forgotten.
The Jeeps themselves were relatively well-kept and ready to run the trails in the park. Once you enter the park in the jeep, you travel to the assigned "zone" to drive through those trails searching for animals. The guides on the Jeep are, unfortunately, not the greatest. They are somewhat knowledgeable but are completely obsessed with finding a tiger to see. This means that sometimes we passed by animals that I would have enjoyed looking at for a bit.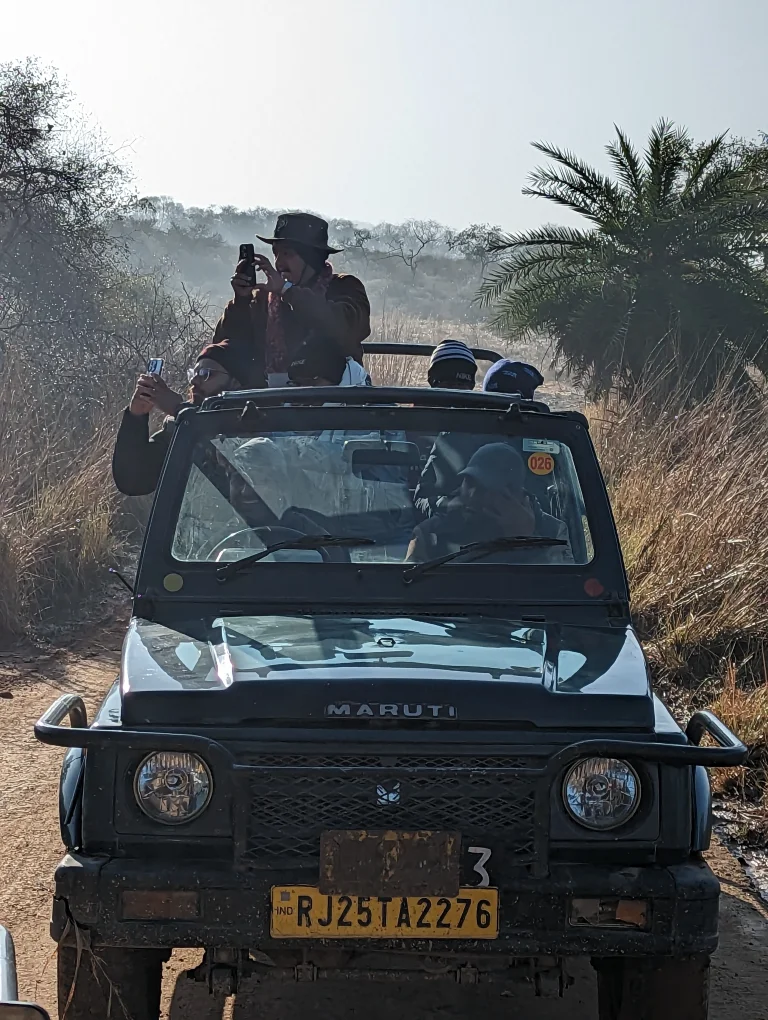 For the most part, the Jeep sticks to the trail. The guides do not attempt to read footprints to better locate animals which seemed odd. Sticking to the safari trails also meant that if the animal was not walking near the trail, we would not see it. In fact, on one of our safaris, an Indian man was guiding a birding group and he pointed out all of the unique birds and animals while the official guide had nothing to add.
The land that we were driving through, especially Zone 3, was known for being the most beautiful in the park. In this zone, there is a lake, which attracts more animals, which were promptly ignored by the guides who were dead set on finding the tiger.
What are the big 3 animals to see in Ranthambore National Park
The big 3 of Ranthambore National Park are the Bengal Tiger, the Leopard, and the Sloth Bear.
On our safaris, we actually saw all 3! However, I strongly note that while officially we saw all 3 we only saw a part of the Bengal tiger and only saw the leopard for a split second. Conversely, we were quite excited to see the Sloth Bear, which is the rarest to see in the park. In fact, the Sloth Bear spent a lot of time traversing the land right where we could see it. It was pretty amazing to see.
The Sloth Bear is elusive and likes to particularly feed on bee hives.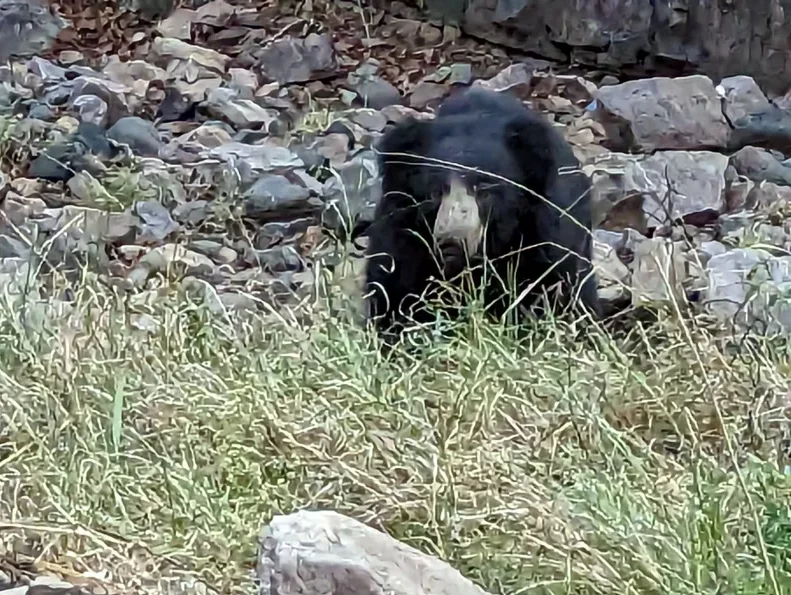 How is the River Safari in Ranthambore National Park
The river safari was something fairly new to be offered in Ranthambore and took a bit of time to get there. Happily, the guide was super excited to be doing it and was the most interactive of all the guides in Ranthambore. On the ride to the river, we stopped briefly at a chili pepper farm because the red along the hillside was gorgeous!
Once on the river, we saw tons of crocodiles on the river bank. Two breeds lived there, the first had a more pointy nose and was called Gharials. The second appeared with the more classic nose-line and was called a mugger crocodile. Going down the river offered us a more unique and less touristy place to enjoy the land and the animals there. I would recommend it if you're in the area.
A crocodile along the river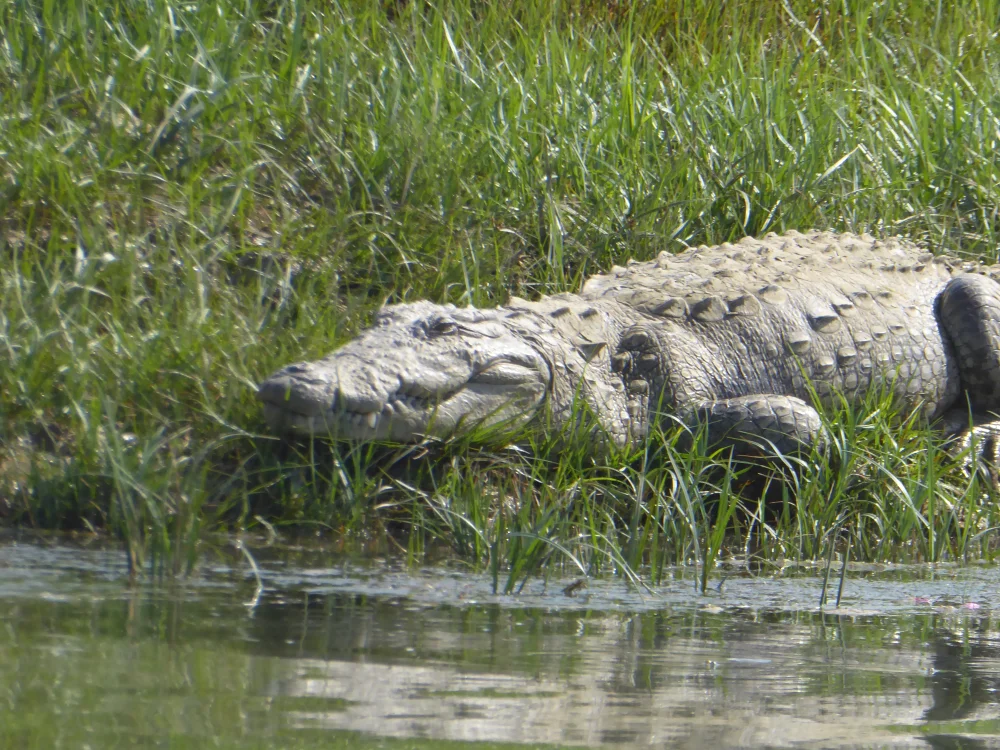 Ranthambore Safaris vs African Safaris
Every non-native who I met at Ranthambore had already been on safari in Africa and had a fantastic time there. Overall there was an easy agreement that the African safaris were better than the Indian Safaris. Here's why.
On African safaris, there are a ton of large animals and all of the animals are quite interesting while on Indian Safari there are not nearly as many large animals, let alone large animals that you can actually find on safari.
On African safaris, your guides are simply more knowledgeable. Our Indian safari guides did not add much value. On the African safaris, we would track animals by footprints and by their effect on the environment while for the India safari guides it seemed to be more like a day job where they did not put in that kind of effort. I will note that the policies at Ranthambore may prevent the guides from doing certain things like getting off of the jeep to inspect a footprint.
On African safaris the land is large and driving through it seems pretty loose, our guides often went off-road to better locate key animals and they communicated with other guides to figure out where to take us. Sometimes on African safaris, we spent a lot of time tracking animals. It felt like we were part of it and along the way, we would see lots of other big animals that we stopped and enjoyed.
On Indian safaris, the jeep is allowed to follow the trail. Going off the trail is not a common activity, and I note that we only did that once in India – when we were chasing after the Bengel tiger.
Would I go on a safari in India again?
I would consider it, but there would need to be a compelling reason to do so. Getting on a safari is often a day trip from anywhere I would like to visit. My gut tells me that I would decline to go on safari in India again because there is so much more to do out there. Plus I "officially" already saw the big 3.
Ranthambore – Pictures from the Safari