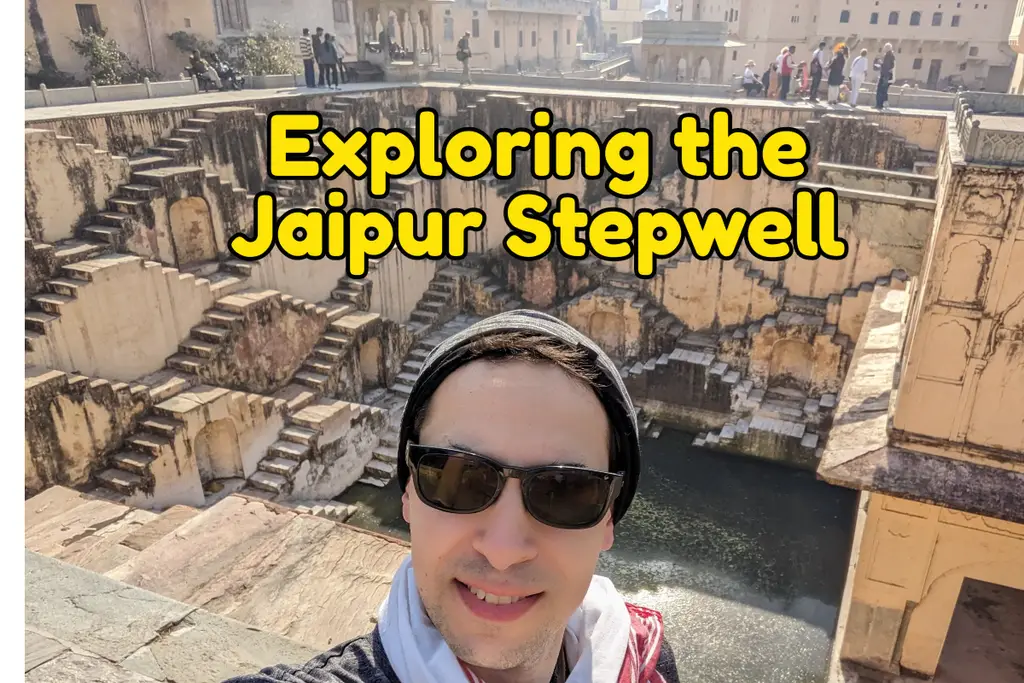 When I first heard about Panna Meena ka Kund, I had known of another larger stepwell 2 hours from Jaipur called Chand Baori.  Since Chand Baori was larger and outside of a city it felt like it would be worth visiting it – if we had the time.  On my itinerary, I traveled from Ranthambore to Jaipur which made seeing the larger Jaipur stepwell – Chand Baori, simple.  Thinking of these two stepwells, I realized how beautiful they were and how stopping to take it all in, with a quiet moment of reflection, was worth the short amount of time that I spent at each.
Stopping in Jaipur to see the Panna Meena ka Kund stepwell was pretty interesting!  It was conveniently right in the city of Jaipur and the construction of it was quite similar to the larger stepwell that we had seen outside of the city.  I would highly recommend seeing it simply because if you're in Jaipur, it is properly alongside other big tourist attractions, plus it is a simple, interesting, and fast stop.
Location: Panna Meena ka Kund, address → XVR2+CFX, Amer, Rajasthan 302028, India.
How long do I need at the Jaipur stepwell?: This will be a quick stop, perhaps 15 minutes to take it all in and another 10 minutes to enjoy the surrounding monkeys
Open hours: Right up to the stair is open from 6 am – 6 pm. However, it is in an open area and you can visit it anytime
What is visiting panna meena ka kund like?
It is simple.  Once you arrive and enter the area, there is a walkway around the stepwell that gives you excellent views of the amazing structure with an array of smaller monkeys that seem to hang out in the area.  Afterward, there is also a small nearby structure that is also interesting to explore, offering a more quiet moment with the stepwell in view before moving onward.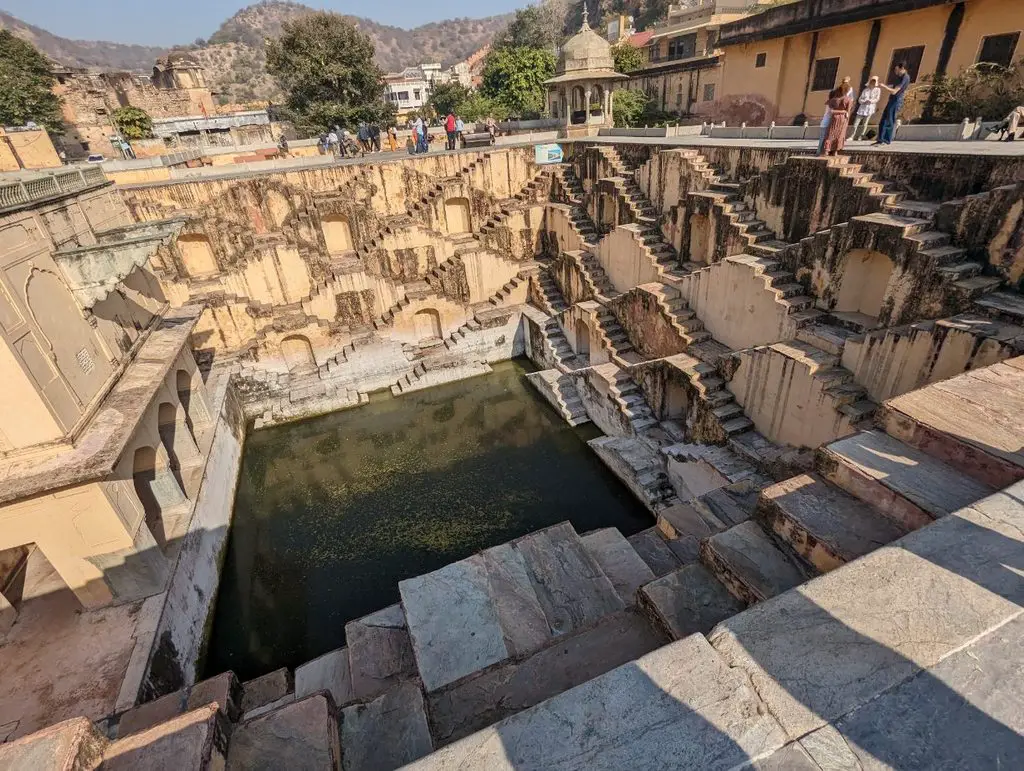 What is panna meena ka kund?
Panna Meena ka Kund is a stepwell located just outside Amber Fort in Jaipur.  A stepwell is a unique structure in India to collect and store water and acts as a gathering place for locals on hot days.  Stepwells in India are designed to allow people to walk down to the water from any side and the stairs are organized in a fabulous artistic way, creating an awe-inspiring backdrop to the visit
About Jaipur's Stepwell Steps
The stepwell consists of a series of steps that descend into the well, forming a geometrically symmetrical pattern.  The staircases are aligned in a way that creates a mutually shared platform every couple of steps, which creates a visually appealing backdrop and adds to the harmonious layout for visitors.  Moreover, these staircases leading downward, allow people to access water from multiple levels!  So if it is the dry season, you may walk more steps to the bottom, but if it is the wet season you may only need to descend a few steps to get to the water!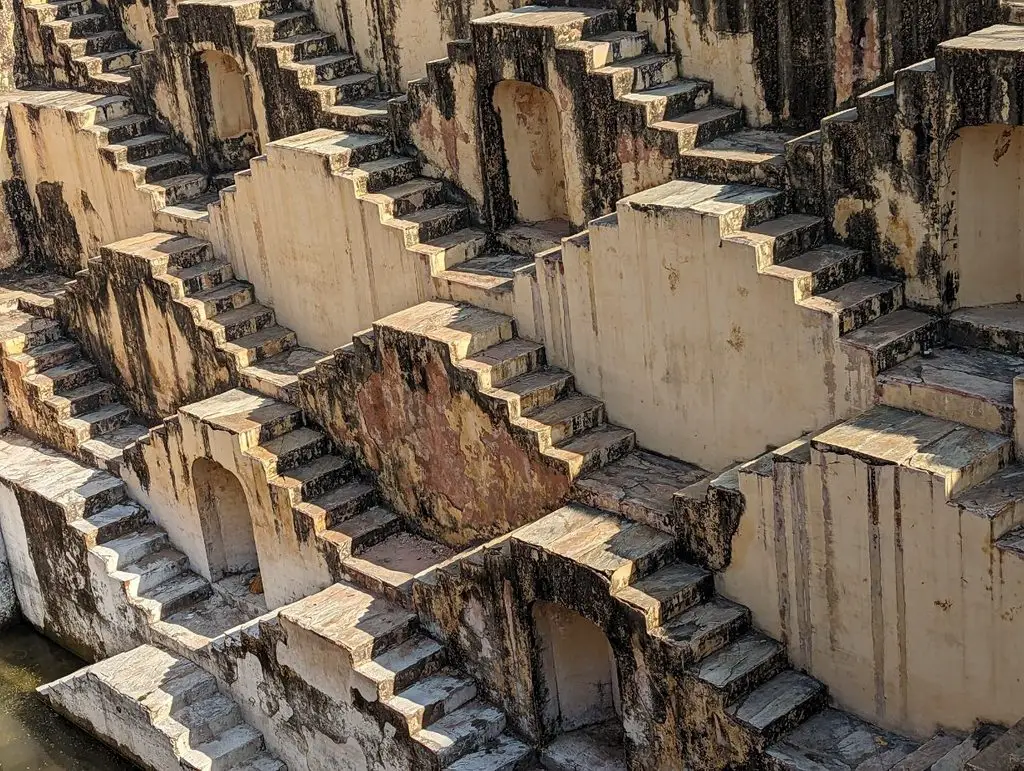 The monkeys at Jaipur Stepwell
At Panna Meena ka Kund there are always monkeys.  Perhaps it is the nearby water that keeps them there, or maybe it is the generosity of the human strangers.  Either way seeing the monkeys climbing around in the area is also a treat!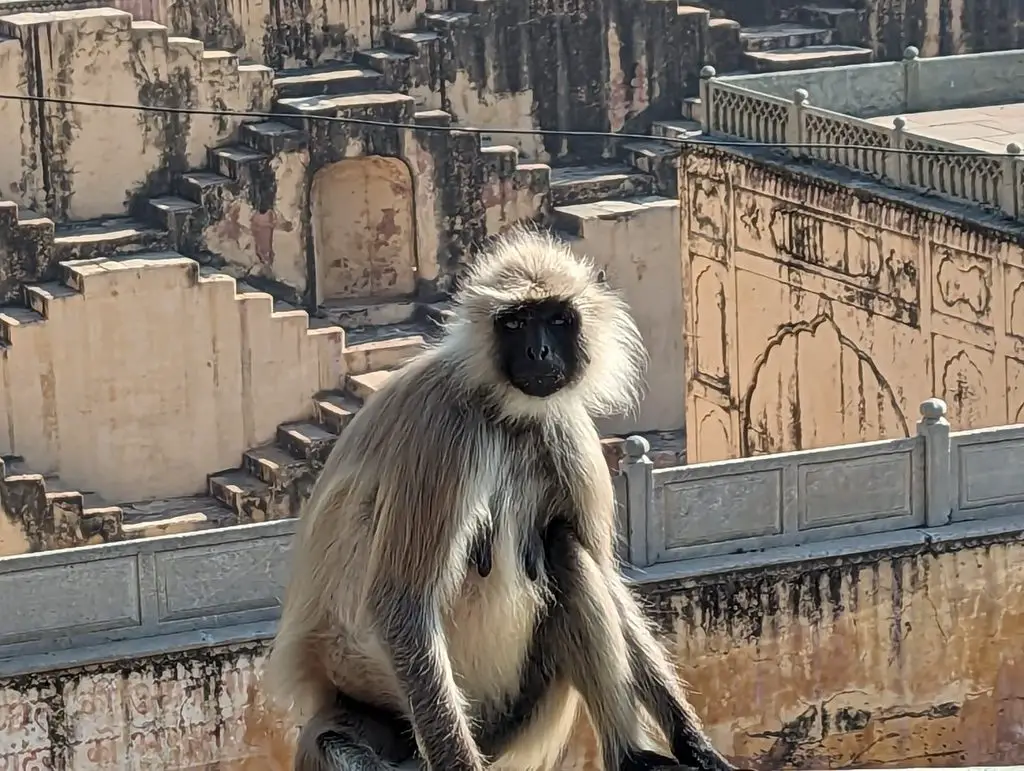 Stepwell Panna ka Kund – Conclusion
The precise geometry and symmetry of the stepwell make it beautiful to see and amazing when considering the architectural planning and the construction of this particular stepwell in the 16th century.  Looking at it today, it is still impressive and well worth the few minutes it will take you to enjoy it.
Image Gallery – Jaipur Stepwell