I woke up to my first full day in Kokopo at 4:00 a.m. to see "know" which is when the Tolai up people of the East New Britain Providence paddle over from another island in canoes to the shore of Kokopo Beach.
It drums were beating heavily and I saw two canoes one through left one to the right. They were very very far apart. East of the boat had would look like a person just as bush with the conehead on board.
Well we waited it was nice to see the sunrise. Each canoe said still until this guy Wave the pool around and yelled at them. Then one remove just a little further and stop again.
As canoes were getting closer, a drone appeared in the sky. the guy who waived the pole yell that everybody in the audience that it was not allowed and it would be shot down. The drone left the area without a shot.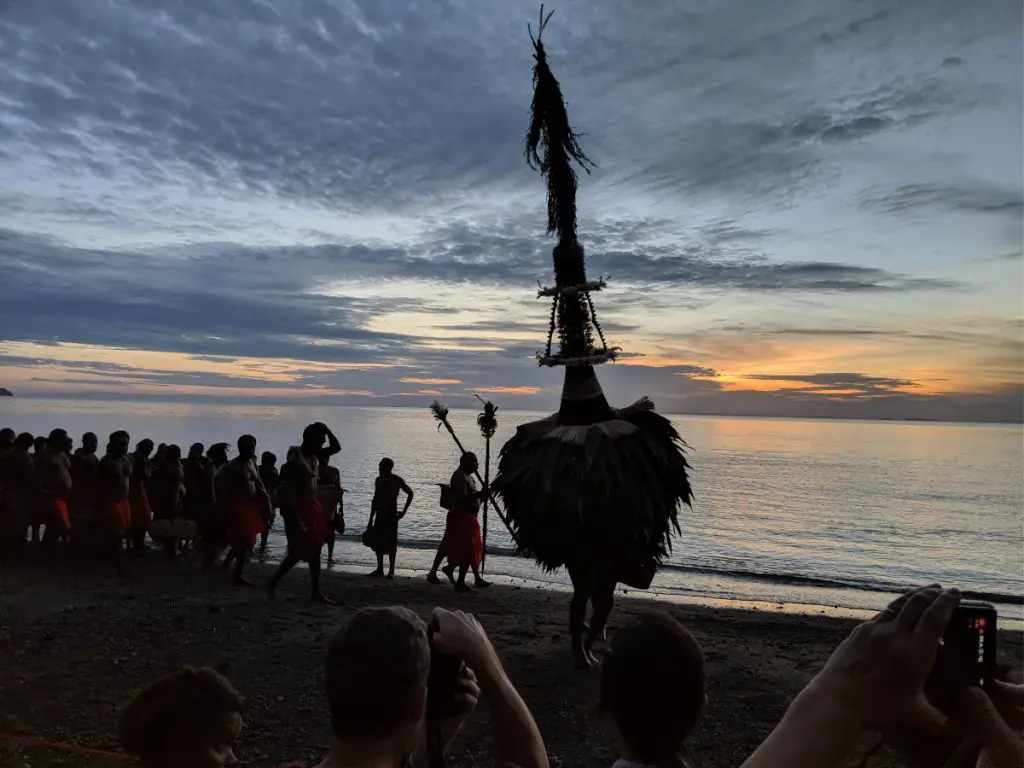 When the canoes got to the beach it was like a small party the tribe celebrated and then told us that he was over.
There were two types of bush creatures.
Tumbions – were very tall
TukTuks – were shorter
All of the people who were watching were behind a white rope. Mosted but because of my fancy trip somebody put a plastic seat under my butt along with the other tourists.
When that ended I went to the Kokopo market. I wanted to get breakfast without sitting around too long so I can get to the mask festival. I got peanuts they were on the vine and a new nut that was new to me called Kanary nuts game wraps in a banana leaf and were awesome.
So already I learned….
1. Kokopo means soil erosion because when it rains there there are lots of floods
2. Boyna melana means good morning
3. Boyna Tuna means thank you
4. "Flaming trees" were the tall trees around town with little red things on top of them
After the breakfast we had it to the world war I world war II graveyard. It's on the site where the first soldier died in world war I in Papua New Guinea. There were graves there!
At the mask festival they taught us tourists how to chew a beetle nut. I saw no tours chewing one.
All morning at the mask festival I saw the bush creature outfits. It was very hot out. We were told specifically NOT to clap.
All of the dance routines that they had or pretty interesting but since I was up so early by 1:00 p.m. when there was a break I thought it was actually over for the day but it was Just lunch time. I didn't want to waste time going back to the room so I ate at a place called hot rooster. It was good basic food.
Then back to the mask festival Roy got to see a ton of costumes and dances which were all super cool but I was really hot.
I was at the festival until about 5:15 some political people were doing bad speeches so I figured this time to take a break. The baining fire dance was supposed to start at 6:30 p.m. but at 6:00 p.m. there would be a band. My plan was to go back to the hotel the freshen up and return to the festival at 5:45.
MyTour team did not come at 5:45 so it\'s 6:05 I hopped on the shuttle which went back and forth to a different hotel to pick people up and bring them to mask festival. It mistakenly returned to my hotel where when it was exiting I saw my guide. It was too late.
When I got to the Baining fire dance location I chose a spot next to a professional looking photographer. The fire dance was actually located in town on a groomed lawn next to a gravel parking lot. I sat on the ground and waited.
my guide showed up 5 minutes before the event and apologize and gave me a plastic chair to sit on.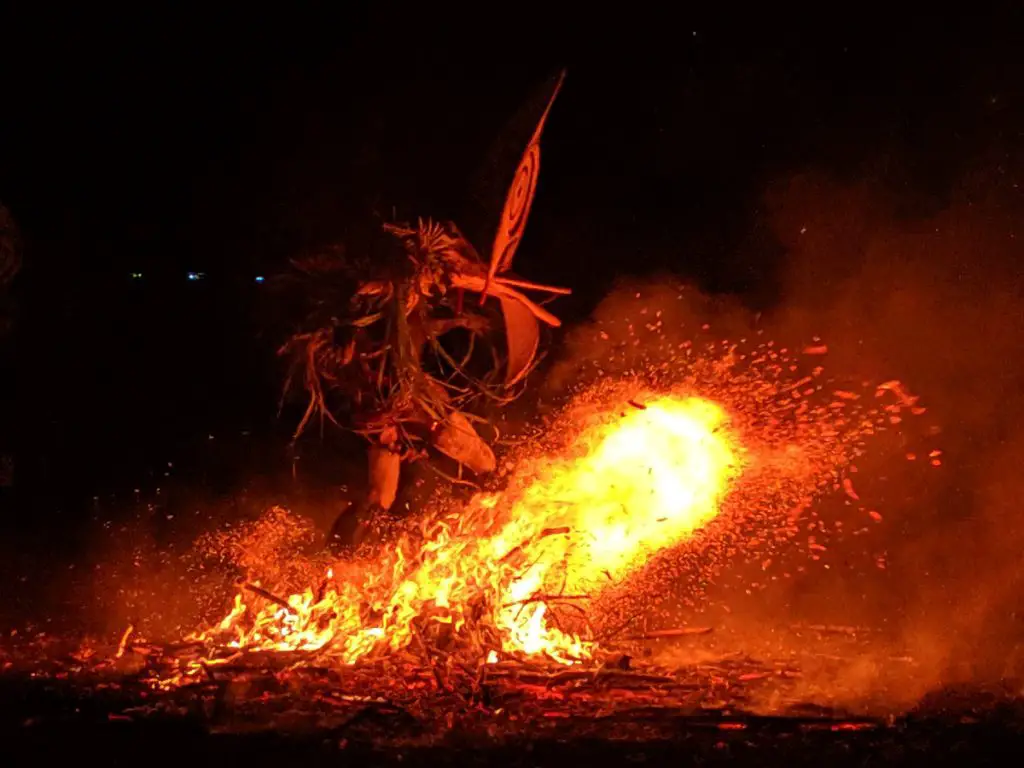 The Baining fire men have a rate of passage that involves the dance and running through the fire while kicking it into the air or jumping on it. if not the safest thing having sparks flying everywhere but it was really cool to watch. First of all each of the men were dressed in an outfit that I can\'t properly explain. It look like rabbit ears with a duck mouth which gigantic eyes with a frisbee covering the penis and what I assume is protective plants on their feet and lower legs.
Did first of the greeting song for each runner there must have been about 20 runners and it took some time. Then each of the runners took terms running towards the fire and kicking it until it got very low. When it was low more wood was added. Each kick since flying in the air some runners the bigger risks than others they standing on a dying flame.
The whole thing was very cool. afterwards I went back to my lodge and wasn\'t feeling so well I\'d hot and sour soup for dinner and was upset because I had already skipped a few meals recently and wanted to eat.
In my room I had a health episode. I threw up a number of times then fell asleep around 11:30 p.m. I had to wake up with my alarm at 3:30 a.m. for my schedule 4:45 exit where my guide did not show up on time but at least I felt better.