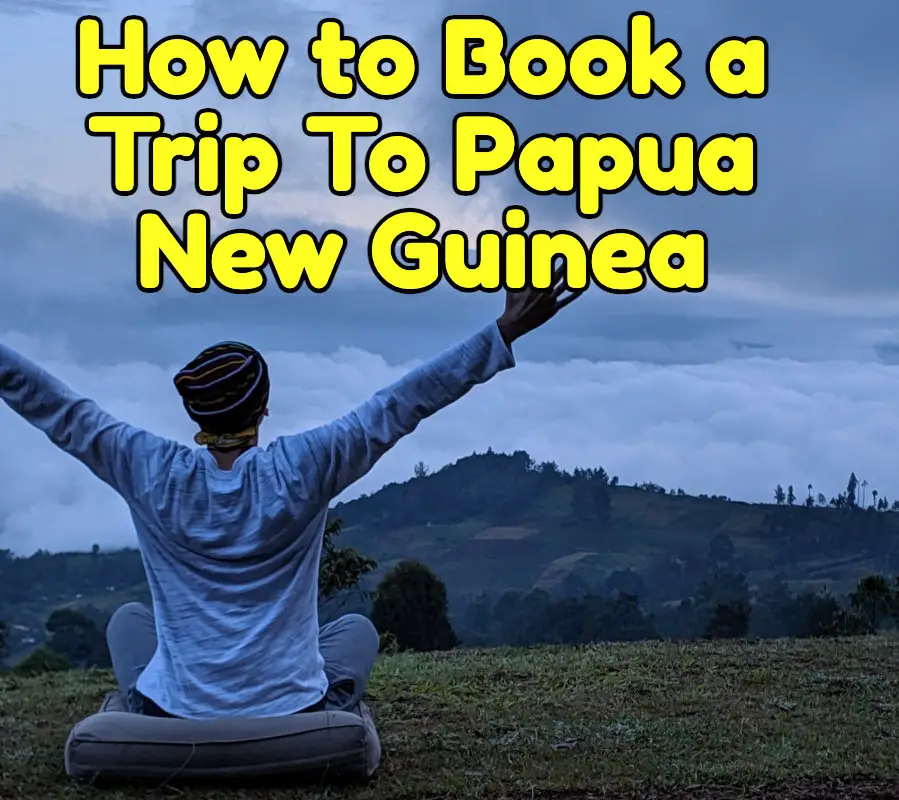 When people hear that you're going to Papua New Guinea (PNG), they imagine that you're going to go deep into the jungle and hang out with primitive people. They imagine that you are at great risk on the trip and that being on the trip itself is the hard part. While it can be a challenging vacation while you're on it, I found booking the trip to be the hardest part.
First I researched where I wanted to go in Papua New Guinea and how I could get there. For me my ideal itinerary included the mask festival in Rabaul, tribes in Mount Hagan, the Karawari River area and Lake Murray. When I thought about the trip I wanted a fricken adventure. I wanted to go to places, meet people and experience things that nobody at home would ever truly understand.
Read about my adventures in Papua New Guinea
The challenge was booking the trip to Papua New Guinea
Papua New Guinea is considered a relatively remote 3rd world country. A place where modern technology is of little interest to most people who live there. Which meant that organizing a tour to go where I wanted to go would be a challenge. Now, i you've read my blog then you know that I typically do not like going on tours. However in Papua New Guinea I had no plans to randomly walk into a tribes village who were not expecting me. That is a matter of safety and common sense. I could mention that some tribes are known cannibals but based on what I learned I doubt that I would have risked being eaten by one.
How do I book a trip to Papua New Guinea
That is the question I asked myself. I wanted to have an organized tour to bring me to the various tribes and villages where they had previous relationships and where we would be expected. I located 2 trust worthy companies. One for Rabaul, who is not out of business and a second for visiting the tribes deep within Papua New Guinea – Trans Niugini Tours. This group offered a number of different destinations along with tiny airplane flights between them. The cost was very expensive. To make matters worse, they were terrible at responding to travel inquiries. It often took many days for them to respond to an email and they were not often available by phone.
So I did what any enterprising New Yorker would do, I hired a tour company in Australia. Why Australia? Because they were in the same time zone as Papua New Guinea. Better yet, there was no additional cost to me for them to assist in the booking. The Australia company I used was Touring Treasures. From my angle this helped immensely as the challenges I faced attempting to book my PNG trip with this company was demotivating. The person I worked with at the Australia tour company still had difficulty communicating with Trans Niugini Tour operators but they were more successful than I was.
Whenever you approach a company to help you book a vacation they are always thinking about more things that you can do. The more things you do on vacation means more income for them. For me, I was dedicated to my itinerary and it's something that I had to consistently stick to. I was aware that flights into and out of the remote locations in Papua New Guinea only came and left on certain days of the week. My itinerary had always aligned with those dates.
How was the tour in PNG?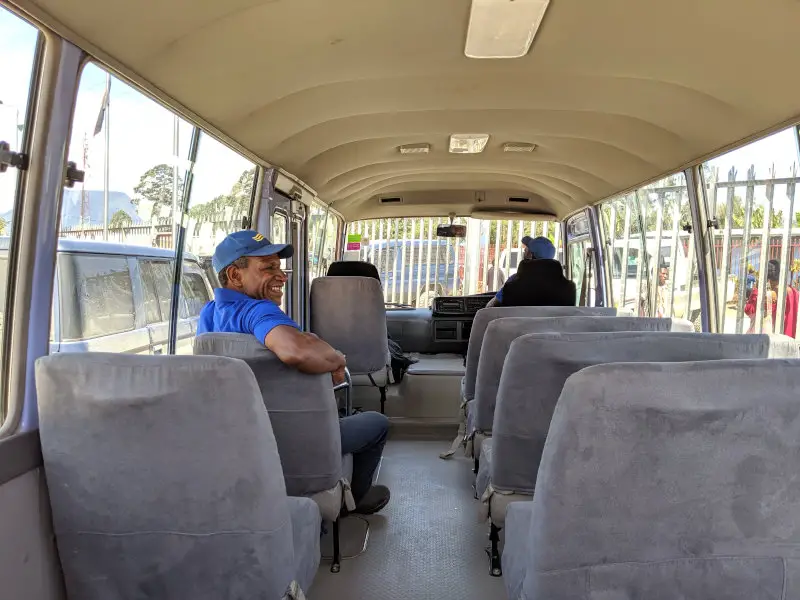 Amazing. However I typically do not like to be part of a tour group. I was surprised to find that in Rabaul I was the only person on the tour. In Mount Hagan, I was also the only person on the tour. At Karawari River, I was on the tour with one other person and in Mount Hagan I was on the tour with 3 other people.
The crazy thing was that they were clearly set up to handle many more people than just little old me. The vans and boats that I was in had plenty of empty places to sit. The planes to the remote locations only sat 6 people each and flew once every three days, so it made me quite curious how they expected to ever fill those seats.
My tour began with the first operator at the main airport in Port Moresby Papua New Guinea, a place where I didn't spend any time. I was pretty surprised to learn that they would meet me at the main airport when I exited my plane and escort me to the next flight to Rabaul which was leaving from the same airport. As a person who enjoys traveling as much as I do, this was a really odd feeling for me.
Meeting the tribes of Papua New Guinea
Most of the time I was traveling and meeting tribes as the only white person for many miles. For some people this would be off putting. For me it was great. It gave me a chance to interact with the tribes people. I asked my guides to teach me a few words in each tribes local language before I met them. My favorite thing about learning just a few hyper-local words was the reaction from the tribes and the children of the tribes to me. Many of them were surprised and my guides found it very entertaining to talk to me about the tribes reactions.
Each tribe that I met seemed to have a similar reaction to me. The entire tribe would gather just to look at me. During this time they would be evaluating me. Who is this white person. When being escorted through their village they would follow me in a massive group. At first this was a little scary but I realized that they were just curious. Especially the children. Everyone wanted to shake my hand.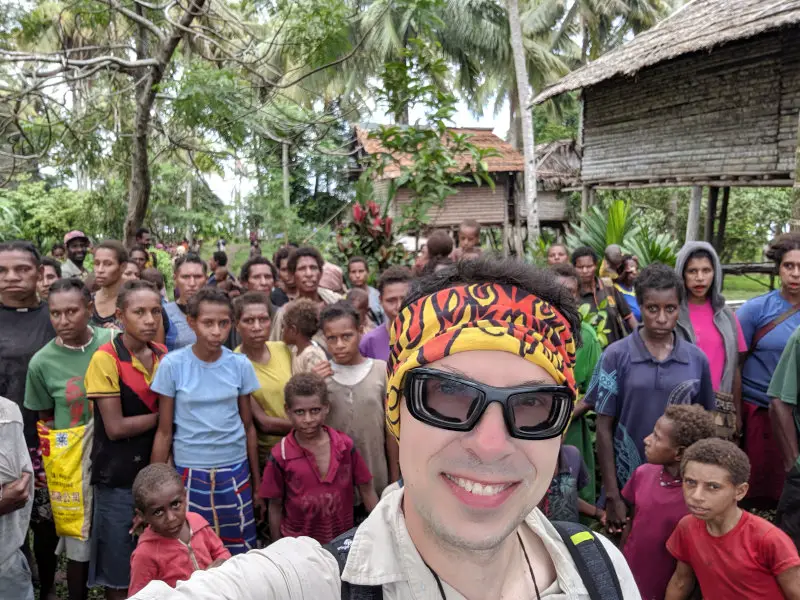 Lightening the Tribes Mood
I wanted to have a good experience and I knew that because I was on this tour I would most likely be fine, even among the cannibal tribes that I met. So I started interacting with the children, who were the most curious and most likely to be following me more closely. I used the few words that I had learned in the local language with them and often bent down on one knee to properly greet them and shake their hands with a smile.
Most tribes had something in particular in their village to see. Such as a trapped crocodile, a make shift school, sago making or to watch villagers carving wood or creating necklaces. While being followed so closely by children I lightened the mood by sticking out my tongue at them or generally playing with my body language. Getting a child to laugh was a real ice breaker for everyone and I highly recommend it.