The Museum of Modern Art in New York City
As a native New Yorker, I've been to Moma a number of times.  While it always has the amazing Vincent Van Gogh's Starry Night painting, sometimes it feels like it is hit or miss with other exhibits. Is it worth it to visit Moma today?
Visiting Moma today was a win.
This is part of a series on interesting places to go in New York City, my hometown.
Moma's permanent collection
The primary reason to head to Moma is typically to see the permanent collection on the 5th floor, which includes works from Ansel Adams, Matisse, Monet, Georgia O'Keefe, Picasso and Rousseau.  If you don't recognize those names, you'll certainly recognize the artwork tied to their names.  So go to that floor first.  It's where you'll find the largest crowds but the most impressive classic art. 
Consider everything else bonus.  Even if you don't like the other art that you see, you will certainly find it interesting.
At the bottom of this post, I include some key photos of art in Moma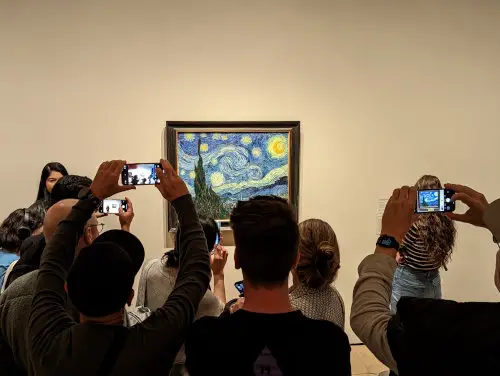 Core Info on Moma
Entrance price: $25
Location: 53rd St and 6th ave
Moma site: Moma.org
Highlights: 5th floor
Hours open: Sun–Fri, 10:30 a.m.–5:30 p.m. Sat, 10:30 a.m.–7:00 p.m.
First entering Moma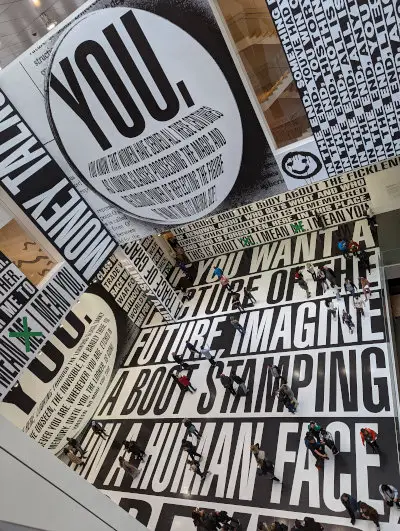 When you first enter Moma, you get a real treat.  You enter the great hall, which is a giant space designed by an artist that you can walk in and sometimes sit or lie down in.  Today the great hall was black and white with text all over.  It was a statement piece and while walking through Moma you get a number of different perspectives on it.
Often ignored, is the convenient outdoor garden space that is also accessible from the ground floor.  It's less of a garden and more of a well put together space that contains art, bushes, a bridge as well as the ability to get a coffee and sit for a while.  Something that can be valuable after spending an hour or so standing on the hard Moma floor and exploring the space.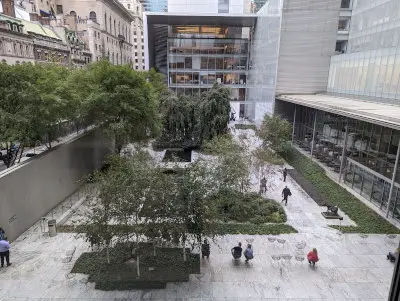 The risks of Moma's art selection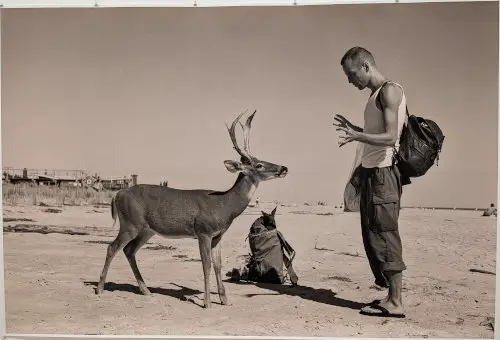 The best, and sometimes worst, part of Moma is that they take risks with the art that they display.  On this occasion, they had a photo exhibit which I am usually not that enthralled by but this time I found some photos that I found interesting such as this one where it appears that a man is having a conversation with a wild deer.
What I love most about Moma is that they had a number of pieces that were quite different from what I usually see at a museum, which is the whole point of the museum.  To challenge your ideas as to what art is.  After all, art and artists are rarely appreciated in their time.  For some of the pictures below, I wondered to myself whether they really belonged in a museum.  I mean if it's something that I can likely make myself, does it really deserve to be there?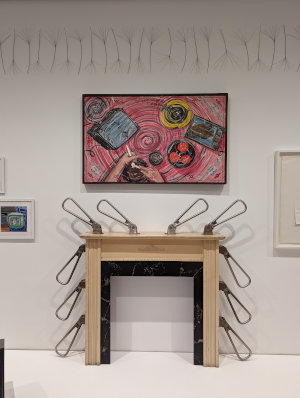 But for others, I was simply blown away.  What do you think of this art?