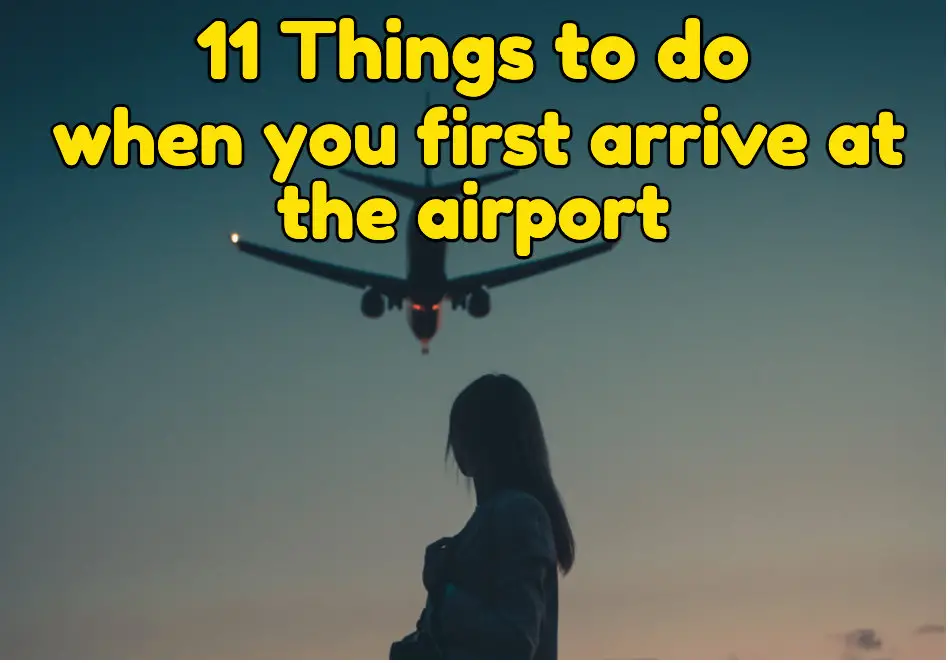 You've just arrived at your destination, now what?  When you first arrive at your destination you will be filled with many emotions from feeling drained to incredible excitement and perhaps a little fear that you aren't sure what to do next.  
On this page we give you the ## things that you should do when you first arrive so that you can confidently move through the airport and get to your hotel.
In the movies, heroes don't look back when there is an explosion.  When you first get to the airport you want to take that spirit with you, just don't say the word explosion in an airport.  You want to move forward, efficiently, as if you were born for this moment.  This is how you can arrive like you are the hero.
1. Go to the bathroom shortly before the airplane lands
From the moment the plane begins to land you cannot get up from your seat and you cannot go to the bathroom.  To make matters worse, when arriving in a foreign country there are no bathrooms until you pass through the passport control lines and get to the baggage area of the airport.  That can be a lot of time!  So you might as well plan to be comfortable.
2. When the airline pilot announces the local time, set it on your watch and confirm that your phone's time has been updated correctly
If you wear a watch or are trusting your phone's clock to properly auto-update, then pay attention when the pilot tells you the local time. Sometimes our devices do not update for a while, or sometimes it is an hour off. Use this time to ensure that you have at least one device with the correct time.
3. Have the following in your pockets
Have the following immediately available, preferably in your front pockets as you should avoid rummaging through your bags at the airport
Information on your first night's accommodation and how to get there from the airport
Passport
ATM card
Credit cards
Phone
Map – Either or both an app with an area map pre-downloaded to your phone or pick up a map of the area before leaving the airport

4. Know the currency exchange rate
Using an app such as XE Currency to track what the right exchange rate is can be helpful when making decisions to exchange money. If you don't have access to the website or app, then you should at least know what the exchange rate was before you got on the plane. This helps you to better understand what the prices are when you arrive. Your actual exchange rate won't be as good, but we have a separate guide on how to get your currency exchanged at the best rates here.
5. Use the ATM at the airport to get immediate cash
Get your first infusion of cash at the airport. You need to have at least a day's worth of cash on you before you get out of the airport and you will get a better deal through ATMs than through the currency exchange desks. Want more on that? –> currency conversion strategies
6. Act confidently in the airport
Showing that you don't know what you're doing can make you a target. Prevent malicious people from offering you rides, attempting to rip you off, or flat-out stealing from you by moving through the airport with confidence. How do you do that? Follow the signs for where you want to go, only ask designated airport staff questions, and don't have loud conversations about how you don't know where you are going. Try not to show too much excitement, walk as you mean it.
7. Keep an eye on your bags and don't let strangers help you with them
The last thing that you want to do when you first arrive at your destination is to lose your bags or be forced into an uncomfortable situation with a local who is trying to take advantage of tourists. The best way to avoid that issue is to keep your baggage in view. When getting on an airport shuttle or getting into a cab or bus, make sure that you see your bags being loaded into the trunk. Don't let people at the airport help you with your luggage unless they are clearly marked as airport employees.
8. Get a sim card, or choose not to
Today using your regular phone plan on vacation is entirely possible, but expensive. The nice part is that you will be able to keep your number and get your regular communications to home. The downside is that I have found both internet access and cellular access to be unreliable when in foreign countries, but mostly workable.
As such getting a sim card is another way to get access. You can buy a sim card before you leave for a trip or you can get it at the airport. You simply need to change the sim card out upon arrival and await it being activated, usually a fairly quick process. But you will have a different phone number. Perhaps that will be a good thing since you are on vacation.
9. Alert your family that you've arrived
Great! Your phone is now set up, or you have connected to the airport or hotel wifi. Let your family know that you have arrived safely with a quick text (cellular), whats app text (internet), or email (internet)
10. When you check into your hotel, take the business card
You made it to your hotel! Now let's make sure you can get back easily. Take the business card of the hotel and have them mark its location on the map, or star the location on your maps app. The business card is excellent because if you jump into a cab to get back you can hand them the business card. This is the most effective way of communicating where you want to go in a country where you don't speak the local language.
11. Handle your Jet Lag
Most people say that you should stay up until your regular bedtime on the first day that you arrive.  I disagree if the time change is over 5 hours.  After flying for such a long time and arriving in the early daylight hours feeling tired, you should take a short nap (about 1 hour) then force yourself to get up and spend the daylight hours being a tourist.  
Let's just admit it. Sleeping on a plane is not restorative, at best it gets you by, If you arrive in the morning you should not stay awake until the evening. In terms of strategy I want to see as many things during the day as possible, stay awake until you had dinner then go to sleep. Then move that time later and later throughout your vacation
Do you have another tip on how to arrive at an airport that we missed?  Please add it as a comment!