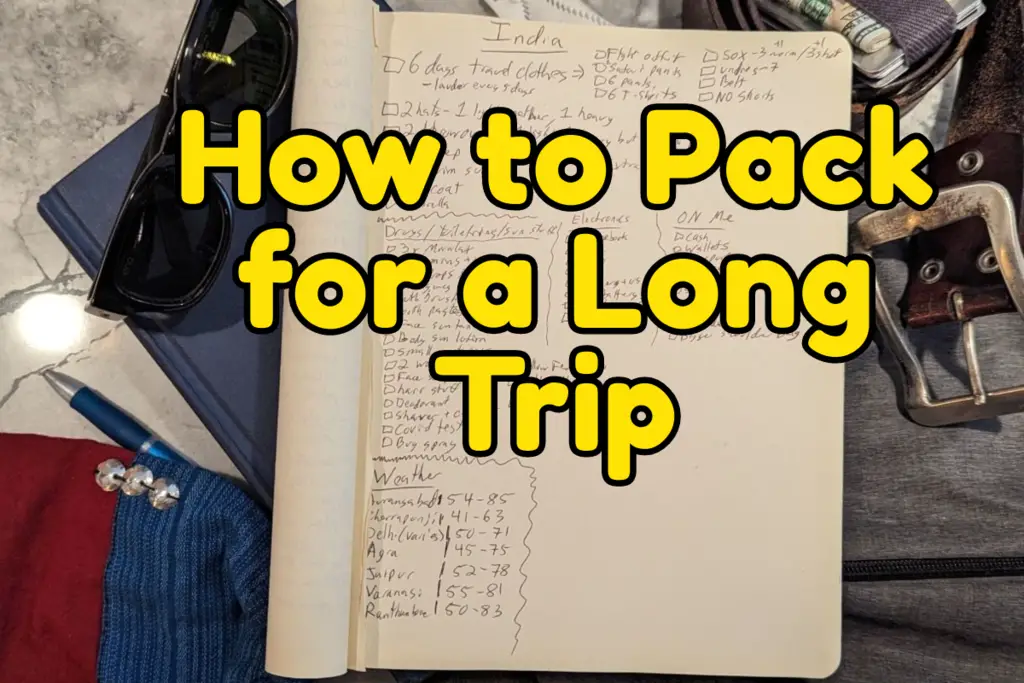 I'm leaving for a 3-week trip to India in two weeks. This is the ideal time to start packing and I'll tell you why. When you're packing for a trip, the things you need you either have, need to be clean, or need to buy still,
This is the fun part! At this phase, you're thinking about all the things you don't want to forget and most likely you're starting to worry that you might just forget something you truly need. One example of a packing list for my upcoming trip to India is in the above photo. While you can find generic packing lists online, I've always found creating one from scratch to be more useful.
4 Hard Truths about Packing
Packing about whether you forgot something takes more time than you think it should
You're likely to forget something that you cannot buy at your destination
Still, a lot of forgotten items can be bought at your destination
Some things that you want to pack will not be available at your destination, like medication or your preferred shampoo for example
Create a Packing List
While you could just throw some things into a bag, I've found that doing that often means that I forgot something important or that I double-packed things that I thought weren't already in there. For a weekend trip, it can be ok, but when packing for a longer trip it is a problem. This is why creating a packing list is highly recommended.
Why is a Packing List Helpful
You can add to the list at any time
As you pack, you check things off the list.
Reduce stress
Step 1 – Set Packing Categories for your trip
When it comes to planning a trip, each trip is unique. Regardless, what you need to bring fits into categories. Some common categories are clothes, toiletries, swimwear, hiking stuff, etc. Figuring out the categories should be pretty easy given that you've been planning your trip activities.
Step 2 – Fill in the categories with what to pack
For each category, add items to it with a checkbox to the item's left. Don't worry about adding everything at once. Instead, write down what you are thinking of and come back to the list throughout the week and add more.
Step 3 – Start packing and check off your list
At this phase, your list is getting close to being final. It's time to start packing. As you pack, check things off of your list. This act of having created this list and checking things off will help you to feel confident as finalize packing your bags.
Conclusion – Packing for a trip
Creating a packing list is the ideal way to reduce stress and ensure that you have what you need when you finally get to your destination. I highly recommend it!