You've gotten through security and suddenly find yourself lost in a sea of people all awaiting their airplanes together in a crowded airport. I know. It's terrible. Travel anxiety hits us all at different points. Typically taking a seat near your plane is mostly a chill experience with few people walking by and some seats not filled. In this circumstance that feeling is often overtaken by the volume of people and the noise that they create.
You can make it better. You can survive this crowded airport with a bit more breathing room using these tips.
How to survive a crowded airport
1. Know your flight's boarding time
Before you consider sitting down alongside the crowd, realize that you don't actually need to be at your gate until your rough boarding time. This means that until then you're free to do as you please. I consider this free time before the flight, the time you should fill with other activities.
If you're familiar with boarding traditions you know that if you're flying economy and you're not part of a special class of people like the disabled or military personnel who can board early, then you don't need to be at the gate exactly at the start boarding time.

2. Shop the airport stores
It may be crowded in the airport but the shops offer you the ability to divert your attention and spend your time on something a bit more fun. If you're flying internationally there is no reason to avoid perusing the duty-free offerings but if you're not there are still places to shop. Most often you'll find beauty products, candy, bottles of alcohol, and electronics including headphones available for purchase.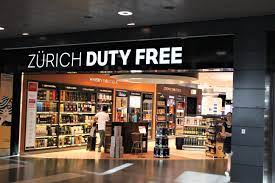 Since you're just spending some time away from the crowd find an area of the shop with the least people and look around. I've often found myself looking at candy that I can't buy at home or a bottle of alcohol that was made locally and reading the description on the bottle. You'd be surprised how much time can pass by just browsing the stores.
3. Sit down at an airport restaurant
This is my favorite way to avoid a crowded airport. Get a seat at a table and order something, anything, and just sit there. They won't throw you out and by default, the restaurant seats are spread out better than any seat by your airplane's gate and you have a table to prop up your phone or laptop or the book or whatever else will keep your interest.
Overall I find restaurants to be emptier than the airport's main hall. I believe this is due to the price tag. However, if you were to buy a coffee and a snack at a takeaway place in the airport it would likely cost similarly. At the end of the day, if there is a barrier to entry like cost then fewer people are likely to be there. This brings me to my final suggestion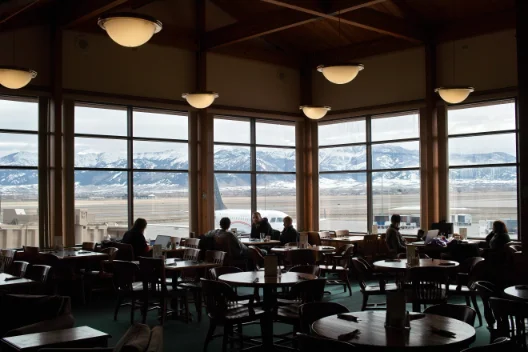 4. Pay to get into an airline's lounge
Yes. Avoid the crowds by paying to get into a lounge. From my experience getting into a lounge varies by country. It could cost $50 for a day or it could cost as little as $7 to enter. I'll tell you why it might be worth the price regardless.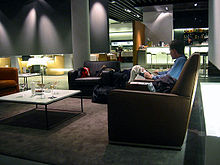 Lounges most often provide you with free food, complimentary wifi, and a bigger area to spread out, and sometimes they offer great bonuses like massages, a place to rest, and shower areas to really refresh yourself not to mention better bathrooms
It is the best way to avoid crowds as most people won't qualify for free entry and many don't know that you can pay for a day pass to enter.
Conclusion – Surviving a crowded airport
When you're feeling overwhelmed by the sheer number of people in an airport, you can still find ways to avoid the crowd. You can find ways to spend your time that will help you ignore the fact that you're in a limited space filled with people all filled with travel anxiety trying to get on their plane.
By taking the time to follow these tips, you will find yourself more confident and happy while navigating your way to your plane. Have a good flight.
If you liked these tips, please check out our other travel tips