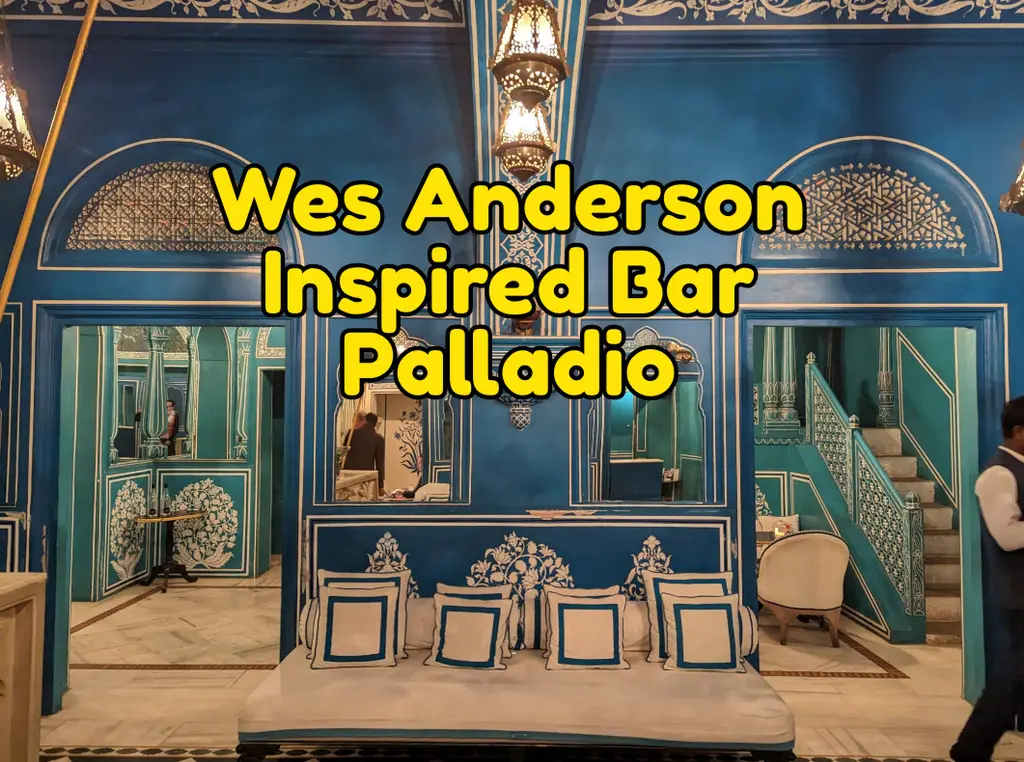 After a long day of traversing through the streets of Jaipur we were on the hunt for a place to have a decent meal and to enjoy the scenery as we were not too disappointed. We made our way to Bar Palladio, which was visually stunning to the point where we were thinking about Wes Anderson movies, to get something to eat.
Google Maps Location: Just a short walk from Rambagh Palace
Why go there: You're hungry, thirsty or tired and want to enjoy a great looking establishment while you relax
The Power of the Guwahati Scarf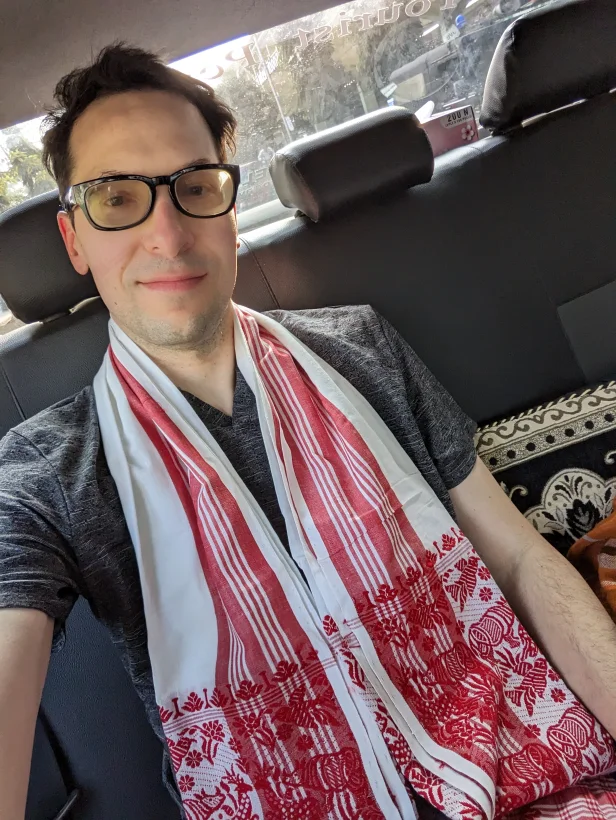 As we entered the Jaipur restaurant, I was wearing my Guwahati scarf that I was gifted on arrival in Guwahati on my way to Cherrapunji. While being led to our seats I hear someone call out to me – "Oh my god, are you from Guwahati?". As my head turned I met eyes with an Indian woman with a slight Irish accent who was clearly drinking heavily and having fun. We told her the story about how I was in Guwahati and quickly made my way toward the tree bridges of Cherrapunji and how I just liked the scarf so much I continued wearing it. The scarf is only made and obtainable IN Guwahati, so the patterns are unique to the region and quite identifiable!
This would not be the only time that a conversation was started based on me wearing that scarf, I now consider it an excellent ice breaker for talking to locals who moved from that region. We chatted with her and her friend for a bit and decided that we would sit with them. It turned out that the other woman was an owner of a bar in Cashel Ireland and the Indian woman worked for her and they were on a one week trip in India. They were completely loaded but full of positive energy so we went with it and enjoyed the company of these quick travel friends.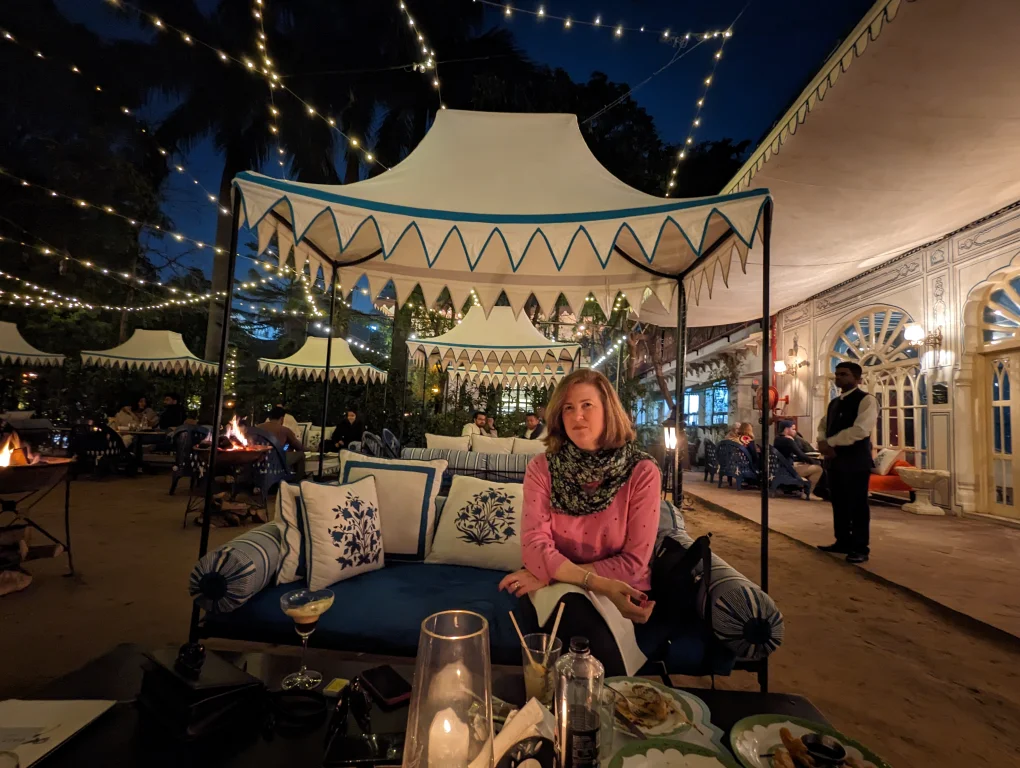 What is Bar Palladio like?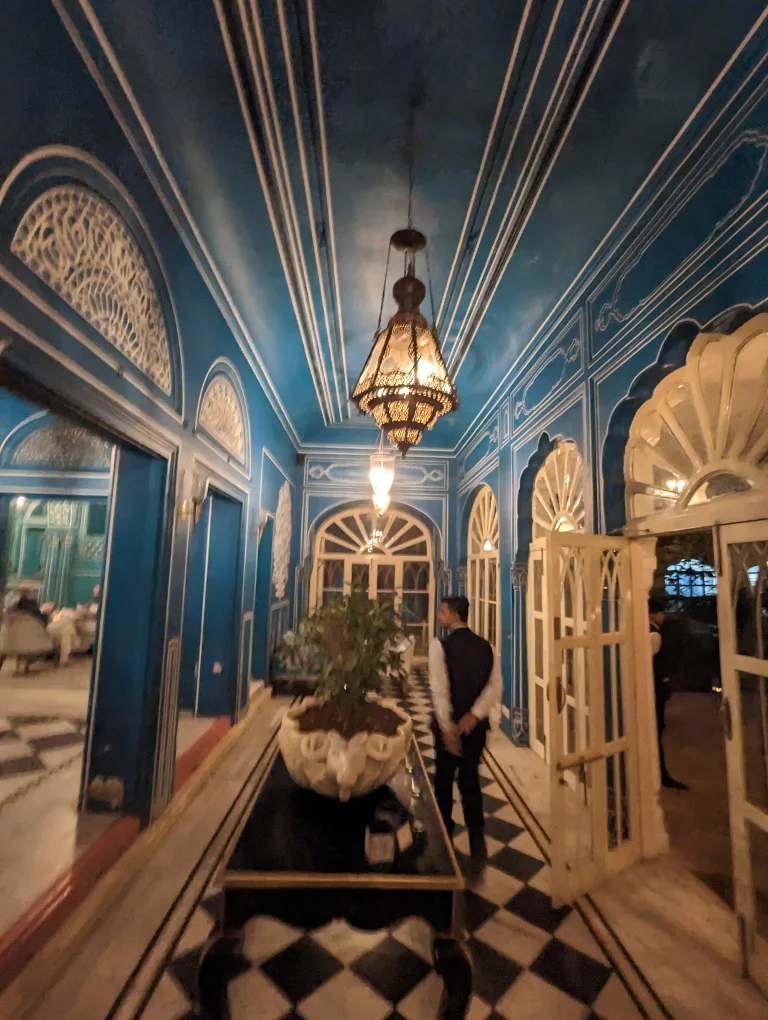 We hadn't made it inside. Instead we were under a lovely tented structure just outside the restaurant. Happily it was getting dark out so the heat of the day was significantly waning making sitting outside quite attractive. There were plenty of tents with tables nearby spread out fairly. The drinks were the clear winner here as this is one of the few places where they were making cocktails and serving all kinds of things.
On the food side, we reviewed the menu and ordered a few things. The food itself wasn't great but it was fine.
After a few bites to eat and drink, I made my way inside to scope of the place. The inside was surprisingly pretty empty and once I walked in the door I knew why – they had shut the air conditioning off and it felt stuffy in there. However, the way that they painted the walls, columns and arranged the furniture made the experience so much more eye pleasing! The whole place was themed blue and white and was very attractive. It's the kind of place I would have expected many photographers to enjoy.
Would I recommend going to Bar Palladio?
I would recommend Bar Palladio to people who were looking to get a drink a maybe a small bite to eat and particularly to people who have an interest in art and architecture – including those people who prefer to post photos to social media. It's also a nice place to escape to in order to get a more quiet moment when you're near Rambagh Palace.
I would not recommend going to Bar Palladio for a meal.