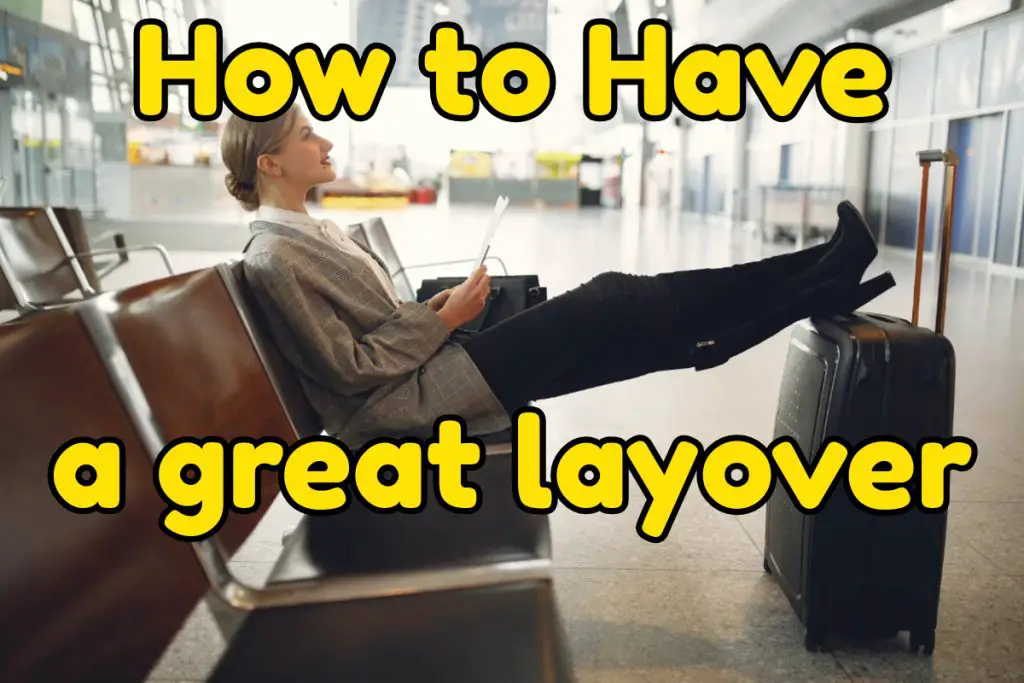 Often to get to those harder-to-reach locations, we are subject to a layover. Most often layovers are in a large connecting city like Frankfurt or Tokyo or Delhi. With a city only steps away, what can you really do during a long layover?
Prepare for the long layover
Most often you can research the long layover destination and airport where you're arriving on the airplane. Do you know those magazines and laminated papers in the back of the chair in front of you? The ones that you don't really want to touch? Yes, pick them up! If you know the layout of the airport you can likely also find options for places to store your carry-on luggage if you choose to leave the airport.
Research if you need a visa to leave the airport and arrange to get one if you do.
What to do with your luggage on a long layover?
Your large checked luggage is most often automatically moved to your next flight, check with your airline before you board for greater confidence.
The real challenge is your carry-on luggage. Often we pack our carry-on luggage to the brim and it's heavy. It is not something that I would like to carry around a city that I only have a few hours in. Find out if the airport your landing in has the hard-to-find locker where you can safely leave your carry-on luggage or the more likely service that will hold your luggage while you dance around town. If the airport does not have the service readily available it is likely that for major airports that there is somewhere very close to the airport that will hold your luggage for you. It's an extra 2 stops, once to deposit your luggage, the other to pick it up, but it could be worth it.
What if the airport doesn't store luggage and there is no service right at the airport? You still could have options. For example in Europe luggage can be stored in lockers at train stations. If you take a train from the airport to an in-city train station with luggage lockers then you can store your luggage there and pick it up before you head back to the airport
Finally, if you have access to a lounge at the airport they may have luggage services available.
Evaluating your real options during a long layover
First of all, don't even think about stepping outside of the airport if you have less than 5 hours between flights. By the time you get outside, you'll immediately have to turn around and come back to the airport. The stress isn't worth it.
If you have over 7 hours then leaving the airport is a real possibility, but if you have 12 hours or more then you should try to leave the airport for your own sanity.
Can I get into the Airport clubs if I'm not a member?
Many airline clubs offer 1-day passes that will allow you to enter their club. The nice thing about being in one of these clubs is that there are often free drinks and snacks available alongside more roomy and more comfortable places to sit. Most often the airport clubs are pretty empty which makes it an excellent place to calmly wait for your flight.
Can I leave the airport during a layover?
If you need a visa to enter the country and you don't have one, then the answer is no. But if you don't need a visa the choice is up to you.
Will you enjoy yourself if you leave the airport?
How's your travel stress? Will you be so stressed out about getting back to the airport that you will not have a good time? Then don't do it!
Are you exhausted from the first flight? If you're expecting to be very tired perhaps the added pressure of leaving the airport isn't the best way to spend your time. Perhaps you can find a nice spot to cozy up for a few hours and take a nap. Some airports have hourly hotel rooms but perhaps you can leave the airport and go to an actual airport hotel
Can you get to a travel destination in the country where you have a long layover with enough time to enjoy that location and return to the airport in time for your flight? The best way to evaluate this is to learn how to travel from the airport to your desired destination, perhaps while on board your previous flight or by asking someone helpful at the layover airport. Often a train will be available from the airport to the city center. If no train is available then a taxi is your best option. But you'll be fighting traffic both to the destination and back. For trains, check the schedule plan for when you will return so that you will have ample time before your flight. If you're leaving by car I would recommend coming back even earlier to ensure that the traffic doesn't cause you to miss your flight. This and other things to do on arrival.
Can you enjoy yourself without leaving the airport?
On a long layover, some airports have in-airport activities that can help you pass the time! So while on your first flight definitely research what things there are available in the airport where you're landing. You may be happily surprised.
Here are some examples
Mexico City airport offers nap rooms which are perfect for catching up on a little sleep before getting on the next plane.
Ice skating is available at Denver Airport, John F Kennedy Airport in NYC, and in Munich
In Qatar, there is a swimming pool.
At Incheon International Airport, there is a great garden to explore
At Vancouver International Airport, there is an aquarium.
The point is that some airports realized the challenges of long layovers and they looked to design a way for you to spend your time, other than shopping. So do your research on the airport that you're landing in to find out what you can do there.
Conclusion: Long layovers
Knowledge is power. Do your research both on the airport that you're landing in, the possible destinations you can go to, and whether there is a hotel nearby. If you have the time to leave the airport, determine how you will handle your carry-on luggage and be sure to get back in time for your next flight. Finally, don't forget to enjoy yourself no matter what you do.